Browse Top Genres:
More Genres:

IMAX: Born to Be Wild
(2011)
Genre

Special Interest-Documentary

Format
Filmed in the IMAX format, this memorable wildlife documentary brings you amongst the orangutan populace of Borneo and the elephants of Kenya as dedicated zoologists rescue and raise orphans of these endangered species and rehabilitate them for return to the wild. Morgan Freeman narrates. 45 min. Standard; Soundtrack: English DTS. 3D requires a 3D television, a 3D Blu-ray player, and special glasses to reproduce the original theatrical experience.
read more
Contains:

With Blu-Ray, With DVD, Ultraviolet Digital Copy, 3 Dimensional

Category:

Special Interest-Documentary

Rated:

G

Closed Captioned

No

Run Time:

90 minutes

Studio:

Warner Home Video

Release Date:

4/17/2012

UPC:

883929229888

Directors:

David Lickley


Producers:

Drew Fellman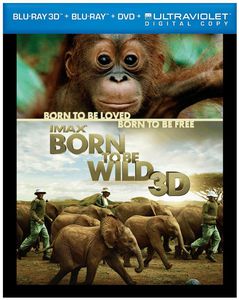 You May Also Like