Show results for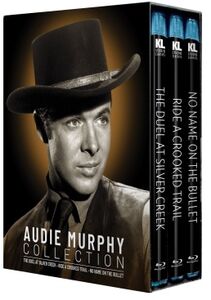 Three-disc set includes:
Duel at Silver Creek (1952)
A murderous gang of claim-jumpers have marshal Lightning Tyron (Stephen McNally) in their pocket, thanks to their beautiful leader Opal (Faith Domergue), so it falls on deputy Luke Cromwell--aka "The Silver Kid" (Audie Murphy)--whose family was killed by the outlaws, to bring them to justice in this frontier drama. With Susan Cabot, Gerald Mohr, and Lee Marvin. Directed by Don Siegel. 77 min. C/Rtg: NR
Ride A Crooked Trail (1958)
When outlaw Joe Maybe (Audie Murphy) pulled up in Webb City, the locals mistook him for the famed marshal who was coming to bring them law and order. Joe, seeing an opportunity to case the bank, was in no hurry to correct them. Will he be able to keep up the deception, as assorted disreputable old "friends" show up in town? Comedy-tinged oater co-stars Walter Matthau, Henry Silva, Gia Scala. 88 min. C/Rtg: NR
No Name On The Bullet (1959)
When notorious gunman-for-hire John Gant (Audie Murphy) arrives in small frontier town of Lordsburg, the locals know he's not there for a vacation. Who Gant's target is, and the reason behind his mission of death, makes for a compelling western drama. With Joan Evans, Charles Drake, Virginia Grey, R.G. Armstrong, Edgar Stehli, and Warren Stevens; directed by Jack Arnold ("Creature from the Black Lagoon"). 77 min. C/Rtg: NR
Standard and Widescreen; Soundtrack: English; Subtitles: English; audio commentary; theatrical trailers.
| | |
| --- | --- |
| Item #: | 2302729X |
| UPC #: | 738329249205 |
| | |
| --- | --- |
| Attributes: | 3 Pack |
| Product Type: | Blu-ray |
| Rating: | NR |
| Subtitles: | ENG |
| | |
| --- | --- |
| Street Date: | 8/4/2020 |
| Original Language: | ENG |
| Run Time: | 242 minutes |