Show results for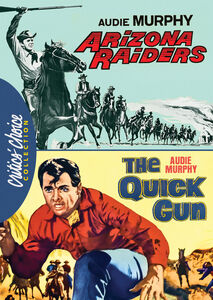 Two-disc set includes:
The Quick Gun (1964)
After two years away, gunslinger Clint Cooper (Audie Murphy) returns to his hometown to find he's none too popular with the locals. He soon helps fight off a band of outlaws led by an old buddy, but will it be enough to get back in the good graces of the townsfolk--and the pretty school marm (Merry Anders) he's always loved? James Best, Ted de Corsia, Walter Sande co-star in this thrilling western. 87 min. C/Rtg: NR
Arizona Raiders (1965)
In this thrilling post-Civil War story, Audie Murphy plays Clint Stewart, a Confederate soldier who joins the guerrilla group, Quantrill's Raiders. After being captured by a Union officer and sentenced to 20 years of hard labor, Stewart is offered amnesty if he helps track down the Raiders. Michael Dante, Buster Crabbe, Gloria Talbott co-star. 97 min. C/Rtg: NR
Widescreen; Soundtrack: English.
| | |
| --- | --- |
| Item #: | 2429387X |
| UPC #: | 683904549822 |
| | |
| --- | --- |
| Product Type: | DVD |
| Rating: | NR |
| | |
| --- | --- |
| Street Date: | 10/5/2021 |
| Original Language: | ENG |
| Run Time: | 184 minutes |