Show results for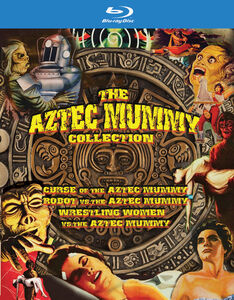 Includes:
The Curse Of The Aztec Mummy (1957)
The hunt for hidden Aztec wealth continues in this follow-up to "Aztec Mummy," with the evildoer known as "The Bat" escaping captivity and kidnapping Flora--the reincarnation of a long-dead Aztec princess--in the hopes that she can lead him to the treasure. Joining the hunt are her doctor fiancé and a silver-garbed superhero calling himself "Angel." Watch out for the snake pit! Ramón Gay, Rosa Arenas, and Crox Alvarado star. 65 min. Dubbed in English. BW/Rtg: NR
The Robot vs. The Aztec Mummy (1958)
The third in the series of "Aztec Mummy" melees from Mexico finds villainous Dr. Krupp (Luis Aceves Castañeda) creating the gamechanger in his efforts to plunder the treasure-laden tomb guarded by the undying warrior Popoca (Ángel Di Stefani)-a robot with a human brain and limbs of steel! Ramón Gay and Rosa Arenas co-star. 65 min. Dubbed in English. BW/Rtg: NR
Wrestling Women vs. The Aztec Mummy (1965)
When looters of an ancient Mexican pyramid unleash a vengeance-seeking mummy that can turn itself into a bat or a snake, and heroic female Mexican wrestlers Golden Rubi and Loreta Venus must battle their evil Asian counterparts, the stage is set for a no-holds-barred showdown between the grappling gals and the undead warrior. Lorena Velazquez, Elizabeth Campbell, and Armando Silvestre star in this campy treat. 85 min. Dubbed in English. BW/Rtg: NR
Standard; Soundtrack: English (dubbed).
| | |
| --- | --- |
| Item #: | 2487292X |
| UPC #: | 089859920820 |
| | |
| --- | --- |
| Street Date: | 7/19/2022 |
| Original Language: | ENG |
| Run Time: | 219 minutes |