Show results for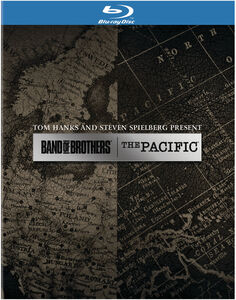 Thirteen-disc set includes:
Band Of Brothers (2001)
Produced by Steven Spielberg and Tom Hanks, this 10-part miniseries details the harrowing experiences of the men of Easy Company, 506th Regiment, 101st Airborne Corps during World War II. From basic training to D-Day and beyond, this important series takes you into the trenches for a personal glimpse at the country's "greatest generation." Damian Lewis, Donnie Wahlberg, Ron Livingston, Scott Grimes star. 10 episodes on 6 discs. 11 3/4 hrs. C
The Pacific (2010)
"Band of Brothers" producers Steven Spielberg and Tom Hanks present this gripping World War II miniseries that chronicles the U.S. Marine Corps' operations in the Pacific Theater. Follow three marines--Gunnery Sergeant John Basilone, PFC Robert Leckie, and Cpl. Eugene Sledge--as they engage Japanese forces in Guadalcanal, Cape Gloucester, Peleliu, Okinawa, and Iwo Jima. Jon Seda, James Badge Dale, Joseph Mazzello star. 10 episodes on 6 discs. 8 3/4 hrs. C
Also includes exclusive documentary "He Has Seen War" (2011), which looks at the post-war lives of the real-life soldiers depicted in the series.
| | |
| --- | --- |
| Item #: | 2296416X |
| UPC #: | 883929715855 |
| | |
| --- | --- |
| Attributes: | Boxed Set, Slipsleeve Packaging, Repackaged |
| Product Type: | Blu-ray |
| Rating: | NR |
| | |
| --- | --- |
| Street Date: | 6/2/2020 |
| Original Language: | ENG |