Show results for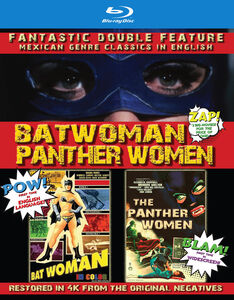 Includes:
Batwoman (1968)
When a demented mad scientist stalks pro wrestlers so that he can harvest their pituitary glands to create a race of mer-men, the Mexican authorities turn to their only hope...the cape-, cowl-, and bikini-clad superheroine known as the Batwoman (Maura Monti)! High-camp action opus from director René Cardona also stars Roberto Cañedo, Héctor Godoy. 80 min. Dubbed in English. C/Rtg: NR
The Panther Women (1967)
With a professor friend fallen to the crime wave in their town, a pair of lady wrestlers (Ariadna Welter, Elizabeth Campbell) decide they'll be the ones who can mete out justice. Will they have the moves, however to deal with the mastermind--an evil witch (María Douglas) with a cult of cat-women at her command? Exemplary René Cardona actioner co-stars Eric del Castillo, Yolanda Montes. 87 min. Dubbed in English. C/Rtg: NR
Widescreen; Soundtrack: English.
| | |
| --- | --- |
| Item #: | 2348719X |
| UPC #: | 089859907227 |
| | |
| --- | --- |
| Attributes: | 4K Mastering |
| Product Type: | Blu-ray |
| | |
| --- | --- |
| Street Date: | 1/19/2021 |
| Original Language: | ENG |
| Run Time: | 167 minutes |