Show results for
Bloody '70s Horror Double Feature: Mary, Mary, Bloody Mary / Rene Cardona's Blood Feast
(1972)
Format:

Blu-ray
Genre:
Horror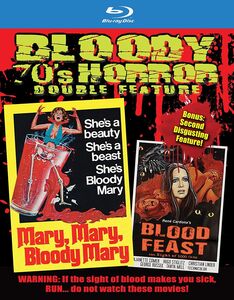 Bloody '70s Horror Double Feature: Mary, Mary, Bloody Mary / Rene Cardona's Blood Feast
(1972)
Format:

Blu-ray
Genre:
Horror
Two-disc set includes:
Blood Feast (1972)
Acapulco playboy Hugo (Hugo Stiglitz) never failed to impress the ladies, picking them up after he spotted them from his private helicopter, and flying them back to his Gothic manse. Unfortunately, the dates always went south from there--because once bored, he'd decapitate them, preserve their heads, and feed the balance to his pet army of a thousand cats. Disturbing opus from Rene Cardona Jr. co-stars Anjanette Comer, Zula Faiad, Christa Linder, Gerardo Zepeda. AKA: "Night of 1000 Cats." 63 min. C/Rtg: R
Mary, Mary, Bloody Mary (1975)
Meet Mary (Cristina Ferrare), a beautiful American artist who moves to Mexico...and lives a secret life as a vampire! To satisfy her appetites, Mary pursues victims of both sexes even as suspicion falls upon the young man (David Young) she has taken as her regular lover. Meanwhile, her wizened father (John Carradine)--who is also undead--cuts his own bloody path through the countryside aiming to end her reign of terror. Juan L. Moctezuma's cult thriller co-stars Helena Rojo. 101 min. C/Rtg: R
Widescreen; Soundtrack: English; featurettes.
| | |
| --- | --- |
| Item #: | 2481865X |
| UPC #: | 089859908125 |
| | |
| --- | --- |
| Attributes: | With DVD |
| Product Type: | Blu-ray |
| | |
| --- | --- |
| Street Date: | 7/19/2022 |
| Original Language: | ENG |
| Run Time: | 163 minutes |