Show results for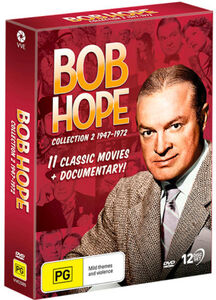 Twelve-disc set includes:
Variety Girl (1947)
Practically the entire talent roster of Paramount Pictures lent their services to this all-star musical, made to benefit the Variety Club children's charity. Two young women with dreams of stardom come to Hollywood and work their way onto the studio's lot, running into such stars as Bob Hope and Bing Crosby, Ray Milland, Alan Ladd, Barbara Stanwyck, Paulette Godard, Dorothy Lamour, Burt Lancaster, William Holden, Pearl Bailey, Sonny Tufts, and even Cecil B. DeMille. 93 min. BW/Rtg: NR
Where There's Life (1947)
When the king of a postage-stamp nation is gravely wounded by an assassin, the search for the heir apparent improbably leads to cowardly Manhattan broadcaster Michael Valentine (Bob Hope)! The reluctant regent finds himself having to deal with a gorgeous general (Signe Hasso) determined to escort him to the throne...and revolutionaries just as bound to see he doesn't make it! William Bendix, George Coulouris, George Zucco also star. 75 min. BW/Rtg: NR
My Favorite Brunette (1947)
While looking after his detective neighbor's office, baby photographer Ronnie Jackson's (Bob Hope) dream of being a private eye lands him on death row, in this laugh-a-minute spoof. Hired by lovely Carlotta Montay (Dorothy Lamour) to track down her missing uncle, Ronnie tangles with some crooks (Charles Dingle, Lon Chaney, Jr., Peter Lorre) and winds up framed for murder. 85 min. BW/Rtg: NR
Road To Rio (1947)
Vaudeville musicians Hot Lips Barton (Bob Hope) and Scat Sweeney (Bing Crosby) stow away on a boat to Brazil and come to the aid of beautiful heiress Lucia (Dorothy Lamour), who's fallen under the hypnotic spell of--and into an arranged marriage--her scheming aunt (Gale Sondergaard). Fifth "Road" comedy co-stars George Meeker, Frank Faylen, The Andrews Sisters, Jerry Colonna, and The Wiere Brothers. Songs include "But Beautiful," "Apalachicola, Fla." 100 min. BW/Rtg: NR
The Paleface (1948)
Bob Hope is "Painless" Potter, a daffy dentist and a shaky gun. Jane Russell is gorgeous gunslinger Calamity Jane, who marries Potter while she works undercover to find out who's been selling guns to the Indians. When Jane gives him credit for her sharpshooting during a dangerous showdown, the inept Potter finds himself hailed as an unlikely--and reluctant--hero. Robert Armstrong, Iris Adrian also star. Features the Oscar-winning song "Buttons and Bows." 91 min. C/Rtg: NR
Sorrowful Jones (1949)
When beleaguered New York bookie Sorrowful Jones (Bob Hope) receives payment for a bet in the form of a living, breathing marker--his 5-year-old daughter, Mary Jane--he must become a reluctant father, in this lively comedy based on Damon Runyon's "Little Miss Marker." With Lucille Ball (in the first of four pairings with Hope), William Demarest, Bruce Cabot, and Mary Jane Saunders. 88 min. BW/Rtg: NR
The Great Lover (1949)
Returning from Europe by steamship, Boy Rangers scoutmaster Freddie Hunter (Bob Hope) intervenes when a card sharp cleans out an amiable old Duke, making himself the hero of the Duke's beautiful daughter (Rhonda Fleming) and the target of the crooked gambler's goons. Lightweight comedy co-stars Roland Culver, Roland Young, Jim Backus co-star. 80 min. BW/Rtg: NR.
Fancy Pants (1950)
In the Old West, a nouveau riche matron is desperate for someone who can lend her raucous tomboy daughter (Lucille Ball) a degree of refinement, and puts out an ad for an English valet. The only taker is an American ham actor (Bob Hope), who'll have his hands full with both his veddy-proper pose and his new charge. Musicalized spin on "Ruggles of Red Gap" also stars Bruce Cabot, Jack Kirkwood, and Eric Blore. 92 min. C/Rtg: G
The Lemon Drop Kid (1951)
After slick racetrack tout the Lemon Drop Kid (Bob Hope) convinces a gangster's moll to switch her bet to a stone motherless nag and she misses out on a $10,000 booty, the Kid finds himself in the hole with the mob. He hits upon a racket to pay him back: scatter a slew of phony Santa Clauses across the Big Apple to collect for the bogus "Nellie Thursday Home for Old Dolls." Fast-paced comedy, based on a Damon Runyon short story, also stars Lloyd Nolan, Marilyn Maxwell; Hope and Maxwell introduce the song "Silver Bells." 91 min. BW/Rtg: NR
Paris Holiday (1958)
"The City of Lights" becomes "the City of Laughs" when screen comic Robert Leslie Hunter (Bob Hope) travels to Paris, looking to buy a scenario from a noted French playwright. The script may be light on jokes, but it's loaded with coded messages for a dangerous gang of counterfeiters...so Bob find himself pursued (and not complaining about it) by a sly femme fatale (Anita Ekberg). Lively farce co-stars Fernandel, Martha Hyer, André Morell, and Preston Sturges. 103 min. C/Rtg: NR
Cancel My Reservation (1972)
New York talk show host Dan Bartlett (Bob Hope) decides a Western vacation is just the thing to calm his nerves, but upon reaching an Arizona ranch he's accused of a murder he didn't commit and must find the real killer! Based on a Louis L'Amour novel (no kidding), Hope's final feature comedy co-stars Eva Marie Saint, Ralph Bellamy, Chief Dan George, Anne Archer, Forrest Tucker. 99 min. C/Rtg: G
This Is Bob Hope... (2017)
Over eight decades in the public spotlight, where he conquered every medium he ever tackled, Bob Hope carved an enduring comic legacy while becoming the benchmark for every entertainer's aspiration to public service. This "American Masters" entry combines copious film and TV clips from across the breadth of Ol' Ski Nose's career with unprecedented access to his own personal archives to craft a remarkable portrait, as fans like Woody Allen, Dick Cavett, Conan O'Brien and many more weigh in. 120 min. C
| | |
| --- | --- |
| Studio: | Via Vision |
| Number of Discs: | 12 |
| Release Date: | 12/11/2020 |
| | |
| --- | --- |
| Item #: | 2357272X |
| UPC #: | 9337369023854 |
| | |
| --- | --- |
| Attributes: | Australia - Import, NTSC Region 0 |
| Product Type: | DVD |
| | |
| --- | --- |
| Region: | 0 |
| Street Date: | 12/11/2020 |