Show results for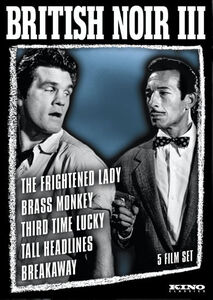 Two-disc set includes:
The Frightened Lady (1940)
Spooky British thriller based on an Edgar Wallace play about an aristocratic family with a genetic tendency toward bloody murder. Marius Goring is a homicidal lord whose neurosis is concealed by his equally deadly mama. Co-stars Penelope Dudley-Ward, Helen Haye, Felix Aylmer. 78 min. BW/Rtg: NR
The Brass Monkey (1948)
Carroll Levis, an on-air personality known as "Britain's favorite Canadian," plays himself in this suspenser that finds him in the middle of complications surrounding a missing brass monkey. Eventually, the suspense carries over to Levis' radio show. With Carole Landis, Herbert Lom, Ernest Thesiger, and Terry-Thomas. AKA: "The Lucky Mascot." 82 min. BW/Rtg: NR
Third Time Lucky (1949)
Nice-girl receptionist Joan Burns (Glynis Johns) inadvertantly helped compulsive gambler Lucky (Dermot Walsh) escape some creditors, and he started keeping her at his side as a mascot. While bringing him continued good fortune, they fell for one another--but the beneficial arrangement got the notice of a professional rival (Charles Goldner) who wanted her for himself. Atmospheric underworld tale co-stars Harcourt Williams, Helen Haye, Sebastian Cabot. 87 min. BW/Rtg: NR
Tall Headlines (1952)
After their eldest son was executed for murder, Mary and George Rackham (Flora Robson, André Morell) pulled up stakes and tried desperately to put the scandal behind them. As their youngest (Michael Denison) began to exhibit the same sociopathic tendencies as his brother, they'll find that they're not done with tragedy. Terence Young's dark drama co-stars Mai Zetterling, Jane Hylton, Dennis Price, Mervyn Johns; Audrey Erskine-Lindop adapted her novel for the screen. AKA: "The Tall Headlines," "The Frightened Bride." 91 min. BW/Rtg: NR
Breakaway (1956)
Returning to England, suave private eye Duke Martin (Tom Conway) finds himself looking into a dual airport kidnapping. The trail takes him to one victim's glamorous sister (Honor Blackman)...and into a world of peril as dangerous parties jockey for the scientific secret the vanished parties were carrying. Falcon-style whodunit also stars Michael Balfour, John Horsley, Paddy Webster, John Colicos. 70 min. BW/Rtg: NR
Standard; Soundtrack: English; theatrical trailers.
| | |
| --- | --- |
| Item #: | 2396619X |
| UPC #: | 738329242428 |
| | |
| --- | --- |
| Attributes: | 2 Pack |
| Product Type: | DVD |
| Rating: | NR |
| Subtitles: | ENG |
| | |
| --- | --- |
| Street Date: | 7/13/2021 |
| Original Language: | ENG |
| Run Time: | 408 minutes |