Show results for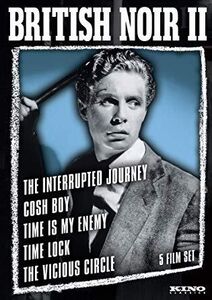 Two-disc set includes:
The Interrupted Journey (1949)
The flight by rail of illicit lovers ends tragically as struggling writer John North (Richard Todd) jumps the train in an attack of remorse before a devastating crash kills many passengers, including his mistress, Susan (Christine Norden). North returns to his wife (Valerie Hobson) but is soon wanted for murder when it's discovered that Susan was shot and killed before the train wreck. Tom Walls, Ralph Truman also star in this exciting British mystery. 80 min. BW/Rtg: NR
Cosh Boy (The Slasher) (1953)
In postwar London, 16-year-old tough Roy Walsh (James Kenney) found a knack for leading the rest of the neighborhood hooligans in targeting and mugging women. Although he manipulates a lenient juvenile system as readily as his abused girlfriend (Joan Collins), he might be setting himself up for trouble he can't handle. Controversial-for-its-day social drama also stars Betty Ann Davies, Robert Ayres, Hermione Baddeley, Hermione Gingold; Lewis Gilbert directs. AKA: "The Slasher." 75 min. BW/Rtg: NR
Time Is My Enemy (1954)
Barbara Everton (Renée Asherson) is understandably shocked to learn that her first husband—low level criminal Martin Radley (Dennis Price)—is very much alive after believing for years he'd been killed during the Blitz. Now married to publisher John Everton (Patrick Barr), Barbara becomes the target of an increasingly dangerous and complex blackmail scheme launched by Radley to keep anyone from finding out about their marriage. With Duncan Lamont, Susan Shaw. 64 min. BW/Rtg: NR
Time Lock (1957)
It's Friday afternoon and a young boy becomes trapped in an airtight bank vault which won't open until Monday morning. Now, it falls to vault expert Pete Dawson (Robert Beatty) to figure out a way to get the door open and save the boy before his 10-hour supply of oxygen runs out. Gripping British drama also stars Betty McDowell, Lee Patterson, Vincent Winter, and, in a small early role, Sean Connery. 73 min. BW/Rtg: NR
The Vicious Circle (1957)
Offbeat British thriller finds Dr. Howard Latimer (John Mills) falsely accused of two murders: a famed German actress and one of his patients. The good news is, however, the police are actually aware of his innocence and want his help to bust up a passport counterfeiting operation. Derek Farr, Noelle Middleton, and Wilfrid Hyde-White also star. AKA: "The Circle." 84 min. BW/Rtg: NR
Standard/Widescreen; Soundtrack: English; theatrical trailers.
| | |
| --- | --- |
| Item #: | 2239336X |
| UPC #: | 738329233839 |
| | |
| --- | --- |
| Attributes: | 2 Pack |
| Product Type: | DVD |
| Rating: | NR |
| | |
| --- | --- |
| Street Date: | 1/7/2020 |
| Original Language: | ENG |
| Run Time: | 363 minutes |