Show results for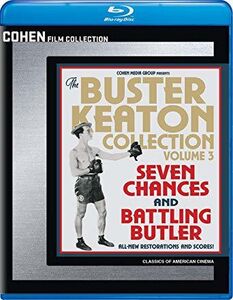 Includes:
Seven Chances (1925)
When he stands to inherit a fortune if he can get married by seven o'clock tonight, James Shannon (Buster Keaton) becomes the quarry of an army of would-be brides (and gets caught in a shower of boulders) in this elaborate silent comedy. Shannon hadn't been able to get hitched to the object of his affection (Ruth Dwyer)--but, will he be able to kiss the perfect bride in time to get rich? With T. Roy Barnes, Snitz Edwards. 87 min. Silent with music score. BW/Rtg: NR
Battling Butler (1926)
On an ill-fated hunting trip, milquetoast heir Albert Butler (Buster Keaton) fell for a mountain girl (Sally O'Neil)--and in order to impress her family, he sought to pass himself off as the famed boxer, Alfred "Battling" Butler (Francis McDonald). That backfired when the real McCoy heard about his deception, and challenged the faux fighter to meet him in the ring! Mix of slapstick and pathos also stars Snitz Edwards, Walter James. 77 min. Silent with music score. BW/Rtg: NR
Standard; Soundtracks: DTS HD 5.1 Master Audio music score, Dolby Digital 5.1 music score.
| | |
| --- | --- |
| Item #: | 2188768X |
| UPC #: | 741952853596 |
| | |
| --- | --- |
| Attributes: | Silent Movie |
| Product Type: | Blu-ray |
| Rating: | NR |
| | |
| --- | --- |
| Street Date: | 8/20/2019 |
| Original Language: | ENG |
| Run Time: | 133 minutes |