Show results for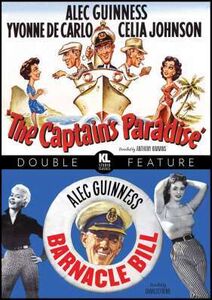 Includes:
The Captain's Paradise (1953)
Captain Henry St. James (Alec Guinness) had a happy and prosperous life piloting a passenger ferry between Gibraltar and Kalique, and knowing he could happily dock with homebody wife Maud (Celia Johnson) in the one...and with exotic mistress Nita (Yvonne De Carlo) in the other. Eventually, though, the tricky arrangement starts taking on water--and in some surprising ways. Endearing comic voyage also stars Miles Malleson, Charles Goldner, Peter Bull, Bill Fraser. 94 min. BW/Rtg: NR
Barnacle Bill (1957)
Captain William Horatio Ambrose (Alec Guinness) wanted to uphold his family's generations-long maritime heritage...but the little matter of his chronic seasickness got in the way. He sees his chance for redemption by rehabilitating a dilapidated amusement pier, but when local officials would rather see it torn down, it's cannons at the ready! Charmer from Ealing co-stars Irene Browne, Maurice Denham, Victor Maddern, Lionel Jeffries. AKA: "All at Sea."82 min. BW/Rtg: NR
Standard; Soundtrack: English; Subtitles: English; theatrical trailers.
| | |
| --- | --- |
| Item #: | 2271467X |
| UPC #: | 738329243852 |
| | |
| --- | --- |
| Product Type: | DVD |
| Rating: | NR |
| Subtitles: | ENG |
| | |
| --- | --- |
| Street Date: | 3/3/2020 |
| Original Language: | ENG |
| Run Time: | 176 minutes |