Show results for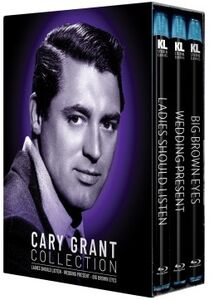 Three-disc set includes:
Ladies Should Listen (1934)
Paris apartment building switchboard operator Anna Mirelle (Frances Drake) knew that she shouldn't be listening in on the conversations of handsome businessman resident Julian De Lussac (Cary Grant). When she tumbles upon how his new flame (Rosita Moreno) is just a con artist angling to relieve him of valuable mineral rights, will she able to put the scheme on hold? Agreeable romantic farce co-stars Edward Everett Horton, George Barbier, Ann Sheridan. 62 min. BW/Rtg: NR
Wedding Present (1936)
Newspaper reporter colleagues Charlie Mason (Cary Grant) and Rusty Fleming (Joan Bennett) kept their workplace rapport flirty and fun, until Charlie got elevated to the editor's desk...and started to turn into a dictatorial jerk. A disgusted Rusty storms out of the office, and announces her engagement to a stodgy novelist (Conrad Nagel). Can the chastened Charlie win her back? George Bancroft, Gene Lockhart, William Demarest co-star. 82 min. BW/Rtg: NR
Big Brown Eyes (1936)
Determined to prove to her plainclothesman boyfriend (Cary Grant) that she's just as capable a sleuth, a manicurist (Joan Bennett) finagles a press job with the promise she can get the goods on an insurance fraud racket. When she uncovers the real mastermind, will she be the one who winds up polished off? Comedy-thriller co-stars Walter Pidgeon, Lloyd Nolan, Douglas Fowley, Isabel Jewell; Raoul Walsh directs. 77 min. BW/Rtg: NR
Standard; Soundtrack: English; Subtitles: English; audio commentary; theatrical trailers.
| | |
| --- | --- |
| Item #: | 2310409X |
| UPC #: | 738329250089 |
| | |
| --- | --- |
| Attributes: | 3 Pack |
| Product Type: | Blu-ray |
| Rating: | NR |
| Subtitles: | ENG |
| | |
| --- | --- |
| Street Date: | 9/8/2020 |
| Original Language: | ENG |
| Run Time: | 220 minutes |