Show results for
Cinema of Discovery: Julien Duvivier in the 1920s
(1925)
Format:

Blu-ray
Genre:

Drama, Foreign-French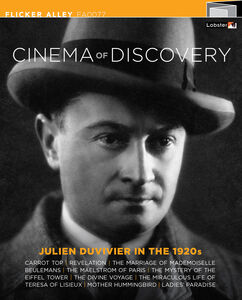 Cinema of Discovery: Julien Duvivier in the 1920s
(1925)
Format:

Blu-ray
Genre:

Drama, Foreign-French
Five-disc set includes:
Carrot Top (Poil De Carotte) (1925)
Ginger juvenile François Lepic (André Heuzé) was regularly mocked by his mean-spirited mother (Charlotte Barbier-Krauss), and his ambitious, absent father (Henry Krauss) was of no help. It takes an act of deperation for his papa to realize the error of his ways, in Julien Duvivier's drama; Fabien Haziza, Yvette Langlais co-star. AKA: "Red Head." 108 min. Silent with music score. BW/Rtg: NR
Revelation (L'Agonie De Jérusalem) (1927)
Retired to Jerusalem, ex-professor Marc Verdier (Maurice Schutz) felt justly proud that his son Jean-Louis (Edmond Van Daële) was continuing his studies in Paris. He'd feel much less so if he ever discovered Jean-Louis' hidden life as leader of a dangerous anarchist syndicate. Telling drama from Julien Duvivier co-stars Berthe Jalabert, Léon Malavier. AKA: "The Agony of Jerusalem." Silent with music score. BW/Rtg: NR
The Wedding Of Mademoiselle Beulemans (Le Mariage De Mademoiselle Beulemans) (1927)
Brussels brewer's daughter Suzanne Beulemans (Andrée Brabant) was half-heartedly betrothed to Séraphin Meulemeester (René Lefèvre), the son of her father's chief rival. Her papa's Parisian protégé Albert Delpierre (Jean Dehelly) wants her hand...but dare he come forward with damaging dirt on Séraphin? Julien Duvivier's adaptation of the popular Belgian play co-stars Gustave Libeau. 65 min. Silent with music score. BW/Rtg: NR
The Mystery Of The Eiffel Tower (Le Mystère De La Tour Eiffel) (1928)
A late relative left phony sideshow "Siamese Twin" Achillis Saturnin (Tramel) his substantial holdings and massive mansion. Unfortunately, Saturnin's lookalike act partner (Tramel, again) decided to steal his identity! The joke, however, might be on the nouveau riche fraud, as his elevated status put him in the cross-hairs of a terrorist band operating out of the Eiffel Tower! Odd suspenser from Julien Duvivier co-stars Régine Bouet, Gaston Jacquet, Jimmy Gaillard. 129 min. Silent with music score. BW/Rtg: NR
The Whirlwind Of Paris (Le Tourbillon De Paris) (1928)
Former Parisian opera diva Lady Amiscia Abenston (Lil Dagover) had grown bored with her marriage to an older Scottish noble (Gaston Jacquet), and longed for her glory days in the limelight. Her decision to try and reclaim them will prove ill-considered, in Julian Duvivier's adaptation of Germaine Acremant's "The Saracen." Léon Bary, Gina Barbieri also star. 100 min. Silent with music score. BW/Rtg: NR
The Divine Voyage (La Divine Croisière) (1928)
Knowing they'd never pass up the payday, unscrupulous shipping magnate Claude Ferjac (Henry Krauss) sent a crew for an alcohol run on an unseaworthy ship...and it never returned. His daughter Simone (Suzanne Christy) was in love with the missing vessel's captain--and the seemingly impossible rescue mission she chartered would yield a miraculous result. Julien Duvivier's adventure opus co-stars Jean Murat, Thomy Bourdelle. Silent with music score. BW/Rtg: NR
The Miraculous Life of Thérèse Martin (La Vie Miraculeuse De Thérèse Martin) (1929)
Julien Duvivier's striking biographical portrait of the sainted Thérèse of Lisieux, the late 19th-Century Carmelite nun whose faith remained unbowed in the face of tuberculosis that plagued her final years and claimed her at just 24, received a remarkable central performance from Simone Bourday; André Marnay François Viguier, Suzanne Christy also star. 113 min. Silent with music score. BW/Rtg: NR
Mother Hummingbird (Mama Colibri) (1930)
The unhappily married Baroness Irène de Rysbergue (Maria Jacobini) thought she'd gain a new grasp on her lost youth through the romantic attentions of the far younger Georges de Chambry (Francis Lederer). Her self-delusions, however, would inevitably--and cruelly--crash in. in Julien Duvivier's absorbing drama; Jean Dax. Lya Lys also star. 75 min. Silent with music score. BW/Rtg: NR
Ladies' Paradise (Au Bonheur Des Dames) (1930)
Orphaned and come to live with her uncle in Paris, beautiful Denise Baudu (Dita Parlo) swiftly finds modeling work at a burgeoning department store. As much as she enjoys the attentions of owner Octave Mouret (Pierre de Guingand), his predatory lack of scruples may be more than she could learn to deal with. Late silent from Julien Duvivier, adapted from a Zola novel, also stars Ginette Maddie, Fabien Haziza. 85 min. Silent with music score. BW/Rtg: NR
Standard; Soundtrack: music score; Subtitles: English; image galleries. Silent with music score.
| | |
| --- | --- |
| Item #: | 2454838X |
| UPC #: | 617311687792 |
| | |
| --- | --- |
| Product Type: | Blu-ray |
| Subtitles: | ENG |
| | |
| --- | --- |
| Region: | 0 |
| Street Date: | 1/7/2022 |
| Original Language: | FRE |
| Run Time: | 857 minutes |