Show results for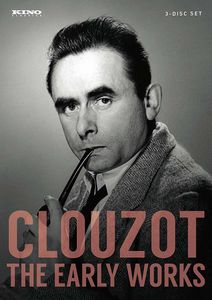 Three-disc set includes:
The Terror Of Batignolles (1931)
The flair for suspense that would mark the works of Henri-Georges Clouzot is evidenced in this comic short marking his directing debut, as a bumbling burglar trying to loot a Paris apartment must contend with the surprising intrusion of a posh couple (Germaine Aussey, Jean Wall). 15 min. BW/Rtg: NR
My Cousin From Warsaw (1931)
When banker Archibald (Gustave Gallet) discovers that his spouse Lucienne (Madeleine Lambert) has been cheating on him with his best friend Hubert (André Roanne) his response is to convince his elegant Polish cousin (Elvire Popesco) to seduce Hubert while she's in town. Matters don't go as planned in this adaptation of the Louis Verneuil stage farce co-scripted by Clouzot. 95 min. BW/Rtg: NR
Dragnet Night (1931)
After young sailor Georget (Albert Préjean) took down faded prizefighter Charly Stick (Constant Rémy) in a carny expedition, the old pug recognized the kid's championship potential--but the lure of fast living and faster ladies may see him down for the count. Musical melodrama co-adapted by Clouzot co-stars Annabella, Jacques Lerner, Lucien Baroux. 90 min. BW/Rtg: NR
The Unknown Singer (1931)
As he made his way through rural Russia, hustling French peddler Ernest (Jim Gérald) made the fortuitous acquaintance of Claude (Lucien Muratore), a man with prodigious vocal prowess--and only the vaguest memories of his past. As Ernest promotes his find into the toast of the continent, the truth about Claude's identity shockingly surfaces. Simone Cerdan co-stars; co-written by Clouzot, Pierre-Gilles Veber. 95 min. BW/Rtg: NR
I'll Be Alone After Midnight (1931)
Weary of her husband's infidelity, socialite Monique (Mireille Perrey) concocts the best revenge--as she attaches her address and the titular message to dozens of balloons, and lets them fly. The travails of the assorted gentlemen who take the offer fill this musical trifle adapted from the Albert Jean novel by Clouzot and Veber; Pierre Bertin, Roger Blum also star. 102 min. BW/Rtg: NR
Tell Me Tonight (1933)
Spotlight-weary opera star Enrico Ferraro (Jan Kiepura) managed to ditch his handlers and hop a Riviera-bound train for some alone time. However, once the press and the local gentry find out about his presence, the quiet holiday's over! Clouzot co-adapted this musical farce, one of three concurrently filmed international versions of the same scenario and each directed by Anatole Litvak. Pierre Brasseur, Magda Schneider, Clara Tambour also star. 85 min. BW/Rtg: NR
Dream Castle (1933)
When a movie crew is on a shoot in the Adriatic, they ask a foreign naval ship's captain (Jaque Catelain) if he, and a few of his men, would like some extra work. The bemused skipper--who's actually his nation's crown prince--agrees, leading to some amusing situations once the party hits land. Edith Méra, Danielle Darrieux, Marcel André also star; Clouzot adapted this French-language version of the German farce "The Castle in the South". 85 min. BW/Rtg: NR
Standard; Soundtrack: French; Subtitles; English. In French with English subtitles.
| | |
| --- | --- |
| Item #: | 2096013X |
| UPC #: | 738329234447 |
| | |
| --- | --- |
| Product Type: | DVD |
| Rating: | NR |
| Subtitles: | ENG |
Street Date:
11/20/2018
Original Language:
FRE
Run Time:
511 minutes
This product is a special order