Show results for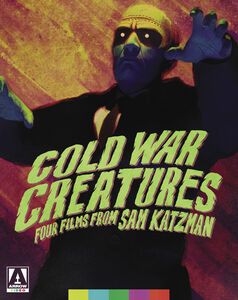 Four-disc set includes:
Creature With The Atom Brain (1955)
Kicked out of the States and sent back to Italy, down-and-out gangster Frank Buchanan (Michael Granger) comes up with a twisted, diabolical, and downright bizarre scheme to exact revenge on the cops and rival mobsters who got him pinched. Buchanan enlists the aid of a sinister Nazi scientist (Gregory Gaye) to create an army of murderous zombies to serve as his personal assassins. Offbeat shocker from producer Sam Katzman also stars Richard Denning, Angela Stevens. 70 min. BW/Rtg: NR
The Werewolf (1956)
After barely surviving a car accident that robbed him of his memory, a man (Steven Ritch) has the added misfortune of being found by unscrupulous researchers in need of a guinea pig. After getting pumped full of their wolf serum, he becomes a full-blown lycanthrope, preying on the locals of a tiny mountain town. Scarefest from Sam Katzman co-stars Don Megowan, Joyce Holden, Harry Lauter. 79 min. BW/Rtg: NR
Zombies Of Mora Tau (1957)
Eager treasure hunters were rubbing their hands when they located the sunken galleon off the African coast reputed to be loaded with a fortune in diamonds. Unfortunately, they'd have to contend with the ship's resurrected crew, who're cursed with protecting their booty from the greedy. Sam Katzman shocker stars Gregg Palmer, Allison Hayes, Morris Ankrum. Marjorie Eaton. AKA: "The Dead That Walk." 69 min. BW/Rtg: NR
The Giant Claw (1957)
Everybody thought electronics engineer Mitch MacAfee (Jeff Morrow) was cuckoo when he swore he saw a massive, battleship-sized UFO. But they'll all be eating crow when they realize Mitch was right, and now a huge alien bird made of anti-matter has made them all sitting ducks. Sam Katzman's sci-fi opus marked by its legendarily chintzy creature effects co-stars Mara Corday, Morris Ankrum, Edgar Barrier. 75 min. BW/Rtg: NR
Standard/Widescreen; Soundtrack: English Dolby Digital mono; Subtitles: English (SDH); audio commentary; featurettes; image gallery; theatrical trailers; more.
| | |
| --- | --- |
| Item #: | 2463290X |
| UPC #: | 760137821380 |
| | |
| --- | --- |
| Attributes: | Standard Edition |
| Product Type: | Blu-ray |
| | |
| --- | --- |
| Street Date: | 2/22/2022 |
| Original Language: | ENG |