Show results for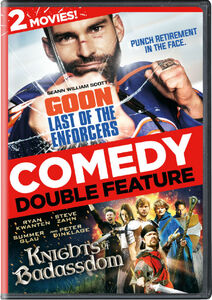 Two-disc set includes:
Goon: Last Of The Enforcers (2017)
One round of gloves-dropping too many sent once-dreaded minor-league hockey tough guy Doug Glatt (Seann William Scott) into retirement, and that's how relieved spouse Eva (Alison Pill) wanted it. However, when the Highlanders start spiraling in the standings because of their selfish new star (Wyatt Russell), can anything stop Doug the Thug from getting back on his blades? Funny follow-up co-stars Liev Schreiber, T.J. Miller, Elisha Cuthbert, and Jay Baruchel (who directed and co-wrote). 101 min. C/Rtg: R
Knights Of Badassdom (2013)
To help their freshly dumped buddy (Ryan Kwanten) out of his doldrums, his slacker buddies (Steve Zahn, Peter Dinklage) have the solution...shanghai him for a weekend in the forest with their live-action role-playing club! Trouble is, the chintzy spellbook they found online turns out to be very real...and the demonic menaces they conjure are about to go medieval on them! Summer Glau, Margarita Levieva, Danny Pudi also star. 86 min. C/Rtg: R
Widescreen (Enhanced); Soundtrack: English Dolby Digital 5.1; Subtitles: English (SDH).
| | |
| --- | --- |
| Item #: | 2393178X |
| UPC #: | 191329161678 |
| | |
| --- | --- |
| Attributes: | 2 Pack |
| Product Type: | DVD |
| | |
| --- | --- |
| Street Date: | 6/1/2021 |
| Run Time: | 187 minutes |