Show results for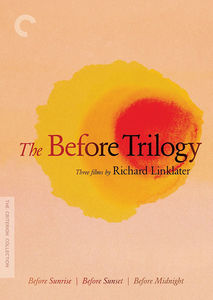 The Before Trilogy (Criterion Collection) 1995, 2004, 2013 DVD
The cornerstone of the career-long exploration of cinematic time by director Richard Linklater (Boyhood), this celebrated three-part romance captures a relationship as it begins, begins again, deepens, strains, and settles over the course of almost two decades. Chronicling the love of Celine (Julie Delpy) and Jesse (Ethan Hawke), from their first meeting as idealistic twentysomethings to the disillusionment they face together in middle age, The Before Trilogy also serves as a document of a boundary-pushing and extraordinarily intimate collaboration between director and actors, as Delpy and Hawke, who cowrote two of the films, imbue their characters with a sense of raw, lived-in experience, and as they age on-screen along with them. Attuned to the sweeping grandeur of time's passage as well as the evanescence of individual moments, the Before films chart the progress of romantic destiny as it navigates the vicissitudes of ordinary life.
Before Sunrise
Before Sunrise - Richard Linklater 1995 - An exquisitely understated ode to the thrill of romantic possibility, the inaugural installment of The Before Trilogy opens with a chance encounter between two solitary young strangers.
Before Sunset
Before Sunset - Richard Linklater 2004 - Impelled by an urgent sense of the transience of human connection, Before Sunset remains Richard Linklater's most seductive experiment with time's inexorable passage and the way love can seem to stop it in its tracks.
Before Midnight
Before Midnight - Richard Linklater 2013 - The conclusion of The Before Trilogy grapples with the complexities of long-term intimacy, and asks what becomes of love when it has no recourse to its past illusions.
DIRECTOR-APPROVED THREE-BLU-RAY SPECIAL EDITION FEATURES
New, restored 2K digital transfers of Before Sunrise and Before Sunset and a 2K digital master of Before Midnight, approved by director Richard Linklater, with 2.0 surround
DTS-HD Master Audio soundtrack on Before Sunrise and 5.1 surround DTS-HD Master Audio soundtracks on Before Sunset and Before Midnight
New discussion featuring Linklater and actors Julie Delpy and Ethan Hawke, moderated by critic Kent Jones
Behind-the-scenes footage and interviews from the productions of Before Sunrise and Before Sunset
Audio commentary on Before Midnight by Delpy, Linklater, and Hawke
Dream Is Destiny, a 2016 feature-length documentary about Linklater by Louis Black and Karen Bernstein
New documentary about the making of Before Midnight in Greece by filmmaker Athina Rachel Tsangari
PLUS: An essay on the trilogy by critic Dennis Lim"
DIRECTOR: Richard Linklater
ACTORS: Julie Delpy, Ethan Hawke
4 3/4 hrs. Total.
Widescreen
2.0 SURROUND/5.1 SURROUND
Subtitles: English (SDH)
audio commentary
featurettes; behind-the-scenes footage.
| | |
| --- | --- |
| Item #: | 1767624X |
| UPC #: | 715515192217 |