Show results for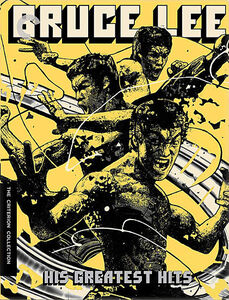 Seven-disc set includes:
The Big Boss (Fists of Fury) (1971)
Bruce Lee's first starring martial arts epic finds him playing Chao-an Cheng, a naive country boy from mainland China who goes to live with cousins in Thailand. Sworn to non-violence, Cheng must become a reluctant fighter when he takes on corruption and drug smuggling at the Thai ice factory where he works. With Maria Yi, James Tien. AKA: "Fists of Fury." 99 min. In Mandarin with English subtitles/Dubbed in English. C/Rtg: R
Fist Of Fury (The Chinese Connection) (1972)
Set in Japanese-occupied 1930s Shanghai, this exciting actioner follows Zhen Chen (Bruce Lee), a young martial artist who learns that his late teacher was in fact murdered by the students from a rival Japanese school. Determined to even the score, Chen embarks on a one-man crusade of vengeance in order to get justice for his mentor. James Tien, Nora Miao co-star. aka: "The Chinese Connection." 107 min. In Mandarin with English subtitles/Dubbed in English. C/Rtg: R
The Way Of The Dragon (Return of the Dragon) (1972)
Martial arts expert Tang Lung (Bruce Lee, who also scripted and directed) travels from China to Rome to help relatives whose Chinese restaurant is being threatened by Mafia thugs. He dispatches the crooks and their fighters, leading to a high-kicking showdown against hired American karate killer Colt (Chuck Norris) in the ruins of the Colosseum. Nora Miao, Robert Wall also star. AKA: "Return of the Dragon." 100 min. In Mandarin with English subtitles/Dubbed in English. C/Rtg: R
Enter The Dragon (1973)
One of the biggest martial arts epics ever filmed finds karate master Bruce Lee hired by British agents to infiltrate the island fortress of a criminal mastermind during a deadly combat tournament. Lee's final completed film (although released before "Return of the Dragon") also stars John Saxon, Jim Kelly, Shih Kien, and Bolo Yeung; look quickly for a young Jackie Chan. 99 min./102 min. special edition cut. C/Rtg: R
Game Of Death (1978)
Completed and released five years after Bruce Lee's untimely death, this martial arts classic casts Lee as Billy Lo, a kung fu film star whose latest project pits him against a deadly crime syndicate. The highlight is a series of bone-crunching battles Lo engages in inside the cabal boss's pagoda hideout--including one against the towering Hakim (Kareem Abdul-Jabbar). With Gig Young, Colleen Camp, Dean Jagger, and Chuck Norris. 100 min. In English, Mandarin, and Cantonese with English subtitles. C/Rtg: R
Widescreen; Soundtracks: Mandarin, English; Subtitles: English; audio commentaries; featurettes; more.
| | |
| --- | --- |
| Item #: | 2294171X |
| UPC #: | 715515247214 |
| | |
| --- | --- |
| Region: | A |
| Street Date: | 7/14/2020 |