Show results for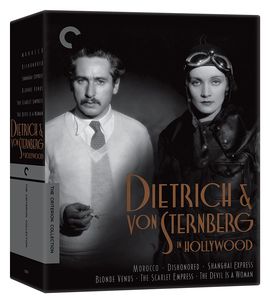 Six-disc set includes:
Morocco (1930)
In her first American feature (and second collaboration with director Josef Von Sternberg), Marlene Dietrich shines as a Parisian café singer seeking new worlds (and men) to conquer in exotic North Africa, but who finds her resolve and heart challenged by laconic Legionnaire Gary Cooper. Moody, romantic effort also stars Adolphe Menjou, Eve Southern. 92 min. BW/Rtg: NR
Dishonored (1931)
Marlene Dietrich is a streetwalker in Vienna recruited by a secret agent to spy on Austria during World War I. She discovers evidence on a general selling secrets to the Russians and uncovers a Russian agent posing as an officer in the Austrian army. Victor McLaglen, Warner Oland, and Gustav von Seyffertitz star in this Josef Von Sternberg production. 91 min. BW/Rtg: NR
Shanghai Express (1931)
All aboard the Peking Railroad's great train, inhabited by a host of fascinating characters: Shanghai Lily (Marlene Dietrich), a strong-willed woman with a questionable reputation; Lily's former lover, a British doctor (Clive Brook); a Chinese prostitute (Anna May Wong); and a devious rebel leader (Warner Oland), travelling on a route filled with drama, romance, and danger. Josef von Sternberg directs this exotic Dietrich classic. 82 min. BW/Rtg: NR
Blonde Venus (1934)
Exotic Josef von Sternberg/Marlene Dietrich drama about a German nightclub singer who returns to performing to raise money for her dying husband (Herbert Marshall) and is pursued by a rich playboy (Cary Grant). A highlight is Dietrich's seductive striptease-in a gorilla suit!-while belting out "Hot Voodoo." 89 min. BW/Rtg: NR
The Scarlet Empress (1934)
The glamorous Marlene Dietrich and a dazzling celebration of style can be found in director Josef Von Sternberg's stunning biography of Catherine the Great of Russia. Dietrich's Catherine--married to the feeble Grand Duke Peter (Sam Jaffe), son of the cruel Empress Elizabeth (Louise Dresser)--realizes that in order for her and Russia to survive, a coup d'état is necessary. With John Lodge, C. Aubrey Smith. 104 min. BW/Rtg: NR
The Devil Is A Woman (1935)
Marlene Dietrich is at her best as a conniving woman in 1890s Seville who gets her jollies making men lavish gifts and attention upon her, then destroying their lives. Cesar Romero is the young suitor warned by former lover Lionel Atwill that Dietrich's charms can only lead to disaster. Directed by Josef von Sternberg, the film inspired Luis Buñuel's "That Obscure Object of Desire." 80 min. BW/Rtg: NR
Standard; Soundtrack: English; Subtitles: English (SDH); audio commentary; featurettes; bonus short "The Fashion Side of Hollywood" (1935); radio play; more.
| | |
| --- | --- |
| Item #: | 2042687X |
| UPC #: | 715515217019 |