Show results for
Actuality Dramas of Allan King (Criterion Collection - Criterion Collection - Eclipse Series 24)
Format:

DVD
Genre:
Special Interest-Documentary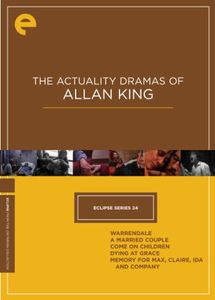 Actuality Dramas of Allan King (Criterion Collection - Criterion Collection - Eclipse Series 24)
Format:

DVD
Genre:
Special Interest-Documentary
Five documentaries from Canadian filmmaker Allan King are featured in this five-disc set. First, "Warrendale" (1967) examines the lives of 12 children living in a healthcare facility for psychologically disturbed young people. Next, "A Married Couple" (1969) showcases the shocking, frightening, and funny relationship of spouses Billy and Antoinette Edwards. "Come on Children" (1972) chronicles what happens when 10 teenagers live on a farm without parental supervision for 10 weeks. Then, "Dying at Grace" (2003) explores the final months of five cancer patients inside the Toronto Grace Health Care Centre. Lastly, "Memory for Max, Claire, Ida and Company" (2005) focuses on the daily routines of eight patients dealing with various ailments in a geriatric care facility. 9 1/4 hrs. total. Standard and Widescreen; Soundtrack: English Dolby Digital mono.
| | |
| --- | --- |
| Item #: | HVD002238 |
| UPC #: | 715515064217 |
| SKU #: | D06228 |