Show results for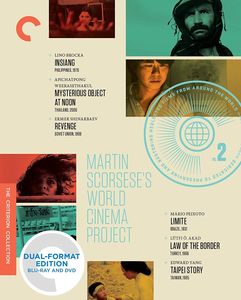 Martin Scorsese's World Cinema Project No. 2 (Criterion Collection) blu-ray
Established by Martin Scorsese in 2007, the Film Foundation's World Cinema Project has maintained a passionate commitment to preserving and presenting masterpieces from around the globe, with a growing roster of more than two dozen restorations that have introduced moviegoers to often-overlooked areas of cinema history. This collector's set gathers six important works, from the Philippines (Insiang), Thailand (Mysterious Object at Noon), Soviet Kazakhstan (Revenge), Brazil (Limite), Turkey (Law of the Border), and Taiwan (Taipei Story). Each title is an essential contribution to the art form and a window onto a filmmaking tradition that international audiences previously had limited opportunities to experience.
DUAL-FORMAT BLU-RAY AND DVD SPECIAL EDITION FEATURES
2K, 3K, or 4K digital restorations of all six films, presented courtesy of the World Cinema Project in collaboration with the Cineteca di Bologna, with uncompressed monaural soundtracks on the Blu-rays
Remastered digital soundtrack of Limite created almost entirely from archival recordings of the same musical performances director Mário Peixote and his musical arranger Brutus Pedreira originally selected to accompany the film, presented in uncompressed monaural sound on the Blu-ray
New introductions to the films by World Cinema Project founder Martin Scorsese
New interview programs featuring film historian Pierre Rissient (on Insiang), director Apichatpong Weerasethakul (on Mysterious Object at Noon), director Ermek Shinarbaev (on Revenge), filmmaker Walter Salles (on Limite), producer Mevlüt Akkaya (on Law of the Border), and actor and cowriter Hou Hsiao-hsien with filmmaker Edmond Wong (on Taipei Story)
Updated English subtitle translations
Three Blu-rays and six DVDs, with all content available in both formats
PLUS: A booklet featuring essays by Phillip Lopate, Dennis Lim, Kent Jones, Fábio Andrade, Bilge Ebiri, and Andrew Chan
INSIANG - Jealousy and violence take center stage in the sweltering, claustrophobic melodrama Insiang, a beautifully acted and tautly constructed character study set in the slums of Manila. Director Lino Brocka crafts an eviscerating portrait of women scorned, led by Filipina stars Hilda Koronel and Mona Lisa, who portray an innocent daughter and her bitter mother. Insiang (Koronel) leads a quiet life dominated by household duties, but after she is raped by her mother's brutish lover and abandoned by the young man who claims to care for her, she exacts vicious revenge. A savage commentary on the degradation of urban social conditions under modern capitalism, Insiang introduced Filipino cinema to international audiences by being the first film from the country ever to play at Cannes.
MYSTERIOUS OBJECT AT NOON - As a recent film-school graduate, Apichatpong Weerasethakul brought an appetite for experimentation to Thai cinema with this debut feature, an uncategorizable work that refracts documentary impressions of the director's native country through the concept of the exquisite corpse game. Enlisting locals to contribute their own improvised narration to a simple tale, Apichatpong charts the collective construction of the fiction as each new encounter imbues it with unpredictable shades of fantasy and pathos. Shot over the course of two years in 16 mm black and white, this playful investigation of the art of storytelling established the fascination with the porous boundaries between the real and the imagined that the director has continued to explore.
REVENGE - Early in the twentieth century, a child is raised in Korea with a single purpose: to avenge the death of his father's first child. This is the crux of Revenge, a decades-spanning tale of obsession and violence, and the third collaboration between director Ermek Shinarbaev and writer Anatoli Kim. As much about Eastern philosophy and poetry as it is about everyday acts of evil, this haunting allegory was the first Soviet film to look at the Korean diaspora in Kazakhstan and Central Asia, and a founding work of the Kazakh New Wave. Rigorous and psychologically complex, Revenge weaves together luminous color imagery and inventive narrative elements in its unforgettable meditation on the way trauma can be passed down through generations.
LIMITE - An astonishing work of creative expression, Limite is the sole feature by the Brazilian filmmaker and author Mário Peixoto, made when he was just twenty-two years old. Inspired by a haunting André Kertész photograph Peixoto saw on the cover of a French magazine, this avant-garde silent masterpiece centers on a man and two women lost at sea, their pasts unfolding through meticulously orchestrated flashbacks propelled by the music of Erik Satie, Claude Debussy, Igor Stravinsky, and others. One of the earliest works of independent Latin American filmmaking, Limite was for most of the twentieth century famously difficult to see. It is a pioneering achievement of Brazilian cinema that continues to captivate with its timeless visual poetry.
LAW OF THE BORDER - Set along the Turkish-Syrian frontier, this terse, elemental tale of smugglers contending with a changing social landscape brought together two giants of Turkish cinema. Director Lütfi Ö. Akad had already made some of his country's most notable films when he was approached by Yilmaz Güney—a rising action star who would become Turkey's most important and controversial filmmaker—to collaborate on this neo-western about a quiet man who finds himself pitted against his fellow outlaws. Combining documentary authenticity with a tough, lean poetry, Law of the Border transformed the nation's cinema forever—even though it was virtually impossible to see for many years.
TAIPEI STORY - Edward Yang's second feature is a mournful anatomy of a city caught between the past and the present. Made in collaboration with Yang's fellow New Taiwan Cinema master Hou Hsiao-hsien, who cowrote the screenplay and helped finance the project, Taipei Story chronicles the growing estrangement between a washed-up baseball player (Hou, in a rare on-screen performance) working in his family's textile business and his girlfriend (pop star Tsai Chin), who clings to the upward mobility of her career in property development. As the couple's dreams of marriage and emigration begin to unravel, Yang's gaze illuminates the precariousness of domestic life and the desperation of Taiwan's globalized modernity.
FEATURES:
Language: Cantonese, Russian
Subtitles: English
Number of discs: 9
Run Time: 588 minutes
| | |
| --- | --- |
| Item #: | 1790395X |
| UPC #: | 715515198219 |