Show results for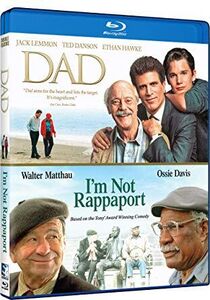 Includes:
Dad (1989)
Jack Lemmon turns in a sensational performance in this tear-inducing drama laced with comedy. He plays Jake Tremont, an elderly man whose son, John (Ted Danson), must take care of him when his wife (Olympia Dukakis) is hospitalized. As Jake and John grow closer, John begins to come to terms with his relationship with his own son (Ethan Hawke). Kathy Baker, Kevin Spacey co-star. 118 min. C/Rtg: PG
I'm Not Rappaport (1996)
In Herb Gardner's adaptation of his hit play, Walter Matthau plays Nat Moyer, an elderly man who spends much of his time telling stories and complaining to pal Midge Carter (Ossie Davis) in Central Park. The men's future is put in jeopardy when Moyer's daughter tries to get him declared legally incompetent and Carter is slated to be fired from his job. Amy Irving also stars. 136 min. C/Rtg: PG-13
Widescreen; Soundtrack: English; Subtitles: English.
| | |
| --- | --- |
| Item #: | 2233626X |
| UPC #: | 683904634542 |