Show results for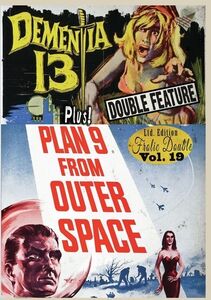 Includes:
Dementia 13 (1963)
Rather than come clean about her husband's abrupt death, a gold digger (Luana Anders) heads to his Irish ancestral family castle to make sure that her spot in the will of his eccentric noblewoman mother (Eithne Dunne) is secure. As she becomes steeped in the strange obsessions of her dysfunctional in-laws, the homestead finds itself stalked by an ax-wielding killer. Moody early career effort from Francis Ford Coppola co-stars William Campbell, Patrick Magee, Mary Mitchel. 75 min. BW/Rtg: NR
Plan 9 From Outer Space (1959)
Recognized on six continents as "the worst film ever made," Ed Wood's sci-fi travesty features anti-nuclear aliens whose flying saucers resemble paper plates, Tor Johnson and Vampira as zombies, Bela Lugosi in two minutes of stock footage (a chiropractor with a cape over his face doubled him), and narration by famed psychic Criswell. With Gregory Walcott, Mona McKinnon. "Can you prove it didn't happen?" 78 min. BW/Rtg: NR
Widescreen (Enhanced)/Standard; Soundtrack: English Dolby Digital stereo; bonus short; theatrical trailers; more.
| | |
| --- | --- |
| Item #: | 2007181X |
| UPC #: | 810162031930 |
| | |
| --- | --- |
| Attributes: | Manufactured on Demand, Widescreen, NTSC Format |
| Product Type: | DVD |
| Rating: | NR |
| | |
| --- | --- |
| Street Date: | 2/6/2018 |
| Original Language: | ENG |
| Run Time: | 180 minutes |