Show results for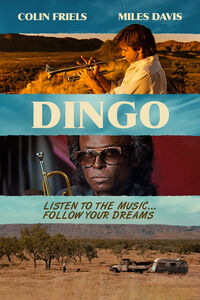 SYNOPSIS
John Anderson has a passion for jazz. One that will take him from his home in the outback of Australia to the jazz clubs of Paris, to meet his idol, jazz trumpeter Billy Cross (played by Miles Davis in his final on screen appearance).
MAIN CAST
Colin Friels – ('Killing Time', Darkman, 'Water Rats', The Eye of the Storm)
Miles Davis – (Scrooged, Miami Vice, On the Edge)
Helen Buday – ('Points de Repères', Mad Max Beyond Thunderdome, For Love Alone)
DEETS:
A coming-of-age Jazz story relatable for music and film fans alike.
Scored by and featuring the final on-screen appearance of Jazz icon Miles Davis.
This is a remastered version released for the first time on digital and home video.
Winner of Best Musical Score in the 1991 AFI Awards.
Comp Titles: Born to be Blue, That Thing you Do!, Yesterday
Special Features:
Interview featurettes with Director Rolf de Heer and lead actress Helen Buday
Rushes Reel: The Desert Runway with audio commentary by Rolf de Heer
FEATURES:
FORMAT: DVD
GENRE: Drama / Music
RATING: NR
RUNTIME: 109 minutes
LANGUAGE: English
CLOSED CAPTIONS: YES
DINGO
| | |
| --- | --- |
| Item #: | 2476055X |
| UPC #: | 850029824282 |
| | |
| --- | --- |
| Product Type: | DVD |
| Rating: | NR |
| | |
| --- | --- |
| Street Date: | 4/12/2022 |
| Original Language: | ENG |
| Run Time: | 109 minutes |