Show results for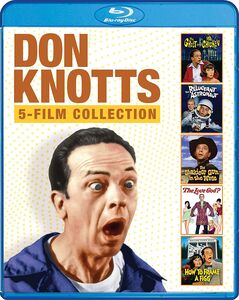 Three-disc set includes:
The Ghost And Mr. Chicken (1966)
In one of his funniest film outings, Don Knotts plays milquetoast newspaper typesetter Luther Heggs, whose big chance to become a reporter for his small-town paper, the Rachel Courier Express, has arrived--and all he has to do is spend the night in a supposedly haunted house. Chills and chuckles mix in this comedy that also stars Joan Staley, Dick Sargent, Sandra Gould, Skip Homeier. 90 min. C/Rtg: NR
The Reluctant Astronaut (1967)
Amusement park rocket operator Roy Fleming (Don Knotts) has all the "wrong stuff" when his pushy father lands him a slot in the astronaut training program. Roy's fear of heights grounds him into being a NASA janitor, but a call for the least-qualified subject for a mission soon has him in orbit in this far-out comedy. Leslie Nielsen, Joan Freeman, Arthur O'Connell co-star. 103 min. C/Rtg: NR
The Shakiest Gun In The West (1968)
There's laughs by the wagonload in this hilarious remake of the Bob Hope western comedy "The Paleface." Don Knotts stars as Jesse W. Heywood, a cowardly dentist from Philadelphia heading west to open a practice. Along the way, Jesse is tricked into marrying a stagecoach bandit (Barbara Rhoades) before taking on the persona of a gunslinger called "Doc the Heywood." Jackie Coogan, Don "Red" Barry also star. 101 min. C/Rtg: NR
The Love God? (1969)
Who better than Don Knotts to play the title role in this offbeat satire? Knotts stars as the meek Abner Peacock, who runs a birdwatching magazine that's in dire financial straits. A new publisher bails him out but also--unbeknownst to Abner--turns his innocent little periodical into a girlie mag and casts the unsuspecting Peacock in the role of its public persona, that of a suave, swinging bachelor. Anne Francis, Edmond O'Brien, James Gregory also star. 103 min. C/Rtg: PG-13
How To Frame A Figg (1971)
Nerdish small-town bookkeeper Hollis Alexander Figg (Don Knotts) finds himself framed by a group of corrupt officials who accuse him of swiping cash from the city till. With Hollis facing charges that could send him to the pokey, he has to uncover the real culprits. Elaine Joyce, Joe Flynn, Edward Andrews, and Yvonne Craig also star. 103 min. C/Rtg: G
Widescreen; Soundtrack: English; Subtitles: English.
| | |
| --- | --- |
| Item #: | 2426781X |
| UPC #: | 826663219784 |
| | |
| --- | --- |
| Attributes: | 3 Pack |
| Product Type: | Blu-ray |
| Rating: | NR |
| | |
| --- | --- |
| Street Date: | 10/5/2021 |
| Original Language: | ENG |
| Run Time: | 498 minutes |