Show results for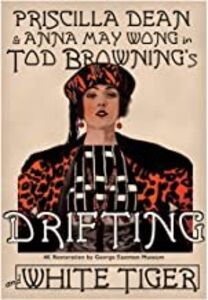 Includes:
Drifting (1923)
In China's poppy fields, conscience-plagued opium smuggler Cassie Cook (Priscilla Dean) wanted out of the country and racket--but dangerous associate Jules Repin (Wallace Beery) would only call their dealings squared if she found out whether newly arrived "mining engineer" Arthur Jarvis (Matt Moore) was actually a dope trade-busting government operative. She successfully seduces the truth out of the interloper--but, smitten herself, will she sacrifice all rather than give him up? Unearthed adventure-drama from Tod Browning co-stars Anna May Wong, Edna Tichenor. 70 min. Silent with music score.
White Tiger (1923)
Veteran London grifter Count Donelli (Wallace Beery) and his pickpocket ward Sylvia (Priscilla Dean) team up with mechanical chess player carny Roy (Raymond Griffith) to head to America and pull off a jewel heist at a socialite's manse. Holed up in a mountain cabin with their haul, mutual suspicions start to dangerously boil over--and the stunning truth about Sylvia and Roy's shared, shadowed past comes to light. Expectedly unusual caper drama from Tod Browning also stars Matt Moore, Alfred Allen. 86 min. Silent with music score.
Standard; Soundtrack: music score; audio commentary; surviving fragment from "The Exquisite Thief" (1919).
| | |
| --- | --- |
| Item #: | 2320144X |
| UPC #: | 738329251406 |
| | |
| --- | --- |
| Product Type: | DVD |
| Rating: | NR |
| | |
| --- | --- |
| Street Date: | 10/20/2020 |
| Original Language: | ENG |