Show results for
A Film Trilogy by Ingmar Bergman (Criterion Collection)
Format:

Blu-ray
Genre:

Drama, Foreign-Swedish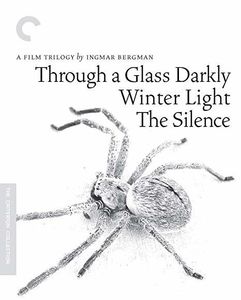 Bergman's "Chamber Trilogy," a somber meditation on alienation, suffering, and the nature of God, opens with the Academy Award-winning "
Through a Glass Darkly
" (1961), which tracks a woman's descent into madness when her husband and family take her to a remote island to recover after a stay in a sanitarium. Harriet Andersson, Gunnar Björnstrand, Max von Sydow star. Next, an aloof rural priest comes to terms with his parishioners'--and his own--lack of faith in "
Winter Light
" (1962), with Björnstrand, von Sydow and Ingrid Thulin.
Finally, Bergman's acclaimed "The Silence" (1963) follows two sisters--lesbian Thulin and free-spirited single mother Gunnel Lindblom--whose stay in an isolated village brings out repressed anger and desires. Also included in this three-disc set is "Ingmar Bergman Makes a Movie," a 1963 Swedish TV documentary. 6 3/4 hrs. total. In Swedish with English subtitles/Dubbed in English.
| | |
| --- | --- |
| Item #: | 2155831X |
| UPC #: | 715515230612 |