Show results for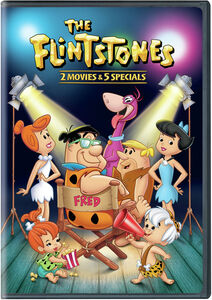 Two-disc set includes:
The Man Called Flintstone (1966)
Our man Flintstone pedals into rock-and-dagger adventure when he's tapped by a secret agency to pose as master spy Rock Slag, Fred's exact double. Ride with the modern Stone Age family as Fred battles the evil Green Goose from Bedrock to Rome; with seven twitchin' tunes and the voices of Alan Reed, Mel Blanc, Jean Vander Pyl, Harvey Korman, and Don Messick. 89 min. C/Rtg: NR
The Flintstones: Little Big League (1978)
When Fred and Barney wind up with coaching jobs for rival youth baseball teams--the Bedrock Brontos and the Sandstone Sluggers--it's open war to see who can best show the kids how to club the ol' eohippus-hide. And Fred's caught between a rock and a hard place when boss and Brontos owner Mr. Slate puts Fred's job on the line if he fails to bring home a championship. Voiced by Henry Corden, Mel Blanc, Jean Vander Pyl, and a debuting Pamela Anderson as Pebbles. 60 min. C/Rtg: NR
The Flintstones Meet Rockula and Frankenstone (1979)
A game-show prize vacation lands the Flintstones and the Rubbles in a creepy castle somewhere in Rocksylvania. There, Fred and Barney stumble upon Rockula's dusty old lab with his unfinished project--Frankentone!--still on the table. When the boys inadvertently bring the big guy to life, they'll have to deal with an untoothsome gruesome twosome. Voiced by Henry Corden, Mel Blanc, John Stephenson, and Ted Cassidy. 45 min. C/Rtg: NR
The Jetsons Meet The Flintstones (1987)
The Space Age meets the Stone Age in this feature-length made-for-TV cartoon adventure. Elroy's time-travel experiment accidentally sends him and the rest of the Jetsons back to Bedrock where they encounter Fred, Barney, and company. And when a malfunction transports the Flintstones and Rubbles into the future, everyone must adapt to life in a new era while trying to get home. Voiced by George O'Hanlon, Henry Corden, Penny Singleton, Jean Vander Pyl, Don Messick, Mel Blanc, Julie McWhirter, Janet Waldo, and Daws Butler. 92 min. C/Rtg: NR
I Yabba-Dabba Do! (1993)
It's the wedding of the year--somewhere around 70,000 to 60,000 B.C., we think--when Pebbles and Bamm-Bamm decide to tie the knot and throw their parents into one marital mishap after another in this feature-length "Flintstones" tale. Voices by Henry Corden, Frank Welker, Jean Vander Pyl, B.J. Ward, and Megan Mullally as Pebbles. 92 min. C/Rtg: NR
Hollyrock-A-Bye Baby (1994)
With Pebbles expecting and Bamm-Bamm trying to get his screenwriting career off the ground, grandparents-to-be Fred, Wilma, Barney, and Betty head to Tinseltown in order to lend support. By the time bungling jewel thieves and angry studio execs get done with them, they'll wish they were in turnaround, in this full-length family frolic. Voiced by Henry Corden, Jean Vander Pyl, Kath Soucie, Frank Welker, B.J. Ward, Jerry Houser, Janet Waldo, and John Stephenson. 96 min. C/Rtg: NR
The Flintstones And WWE: Stone Age Smackdown! (2015)
Losing the family's vacation money sure was one bone-headed move by Fred Flintstone (voiced by Jeff Bergman)! He's got a plan to get the cash back, though--by setting up a wrestling extravaganza with John Cenastone (John Cena), CM Punkrock (CM Punk), and Vince McMagma (Vince McMahon)...and throwing best bud Barney Rubble (Kevin Michael Richardson) into the ring. Will it work...or does Fred have rocks in his head? Animated comedy co-stars the voices of Rey Mysterio, Tress MacNeille, and Grey DeLisle. 44 min. C
Standard/Widescreen; Soundtrack: English Dolby Digital mono; Subtitles: English (SDH), French.
| | |
| --- | --- |
| Item #: | 2303895X |
| UPC #: | 883929706969 |
| | |
| --- | --- |
| Attributes: | Eco Amaray Case, 2 Pack |
| Product Type: | DVD |