Show results for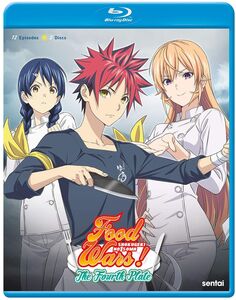 Food Wars! The Fourth Plate contains episodes 1-12 of the anime directed by Yoshitomo Yonetani.
The ultimate Regimental Food War continues as the culinary rebels led by Soma and the members of Kyokusei square off against epicurean elitist Azami and the Totsuki Ten. At stake - the future of dining across Japan. Because if the rebels fail, Azami intends to impose his own tastes and techniques on the entire restaurant industry!
But the fine dining control freak has made a serious mistake in threatening the futures of Soma's friends and family, as while the rebels may seem less experienced overall, this is ultimately a clash of skill, dedication, and, most of all, taste. That may be a recipe for disaster for the seasoned veterans! There are truffled times ahead, and it's anyone's guess as to whose goose will ultimately be cooked in the mind-roasting season long battle!
Special Features: Clean Opening Animation, Clean Closing Animation
Details
Publisher: SENTAI FILMWORKS
Media: Blu-ray
Spoken Language: English, Japanese
Subtitle Language: English
Genre: Comedy
Themes: Battles, School Life
Age Rating: 14+
Run Time: 300
Year Created: 2019
Release Date: 2/23/2021
Dimensional Weight: 1
Region Code: A
| | |
| --- | --- |
| Item #: | 2357946X |
| UPC #: | 816726021140 |
| | |
| --- | --- |
| Attributes: | Subtitled, Anamorphic |
| Product Type: | Blu-ray |
| Subtitles: | ENG |
| | |
| --- | --- |
| Street Date: | 2/23/2021 |
| Original Language: | ENG, JAP |
| Run Time: | 300 minutes |