Show results for
Friday the 13th Collection (Deluxe Edition)
Format:

Blu-ray
Genre:
Horror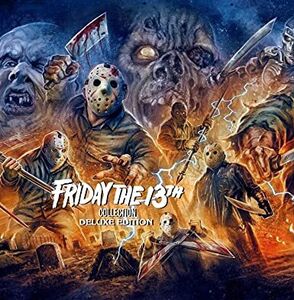 Sixteen-disc set includes:
Friday The 13th (1980)
The one-time bane of nearly every critic in America, the blood-soaked first film in the franchise has gone on to cult classic status. Decades after the drowning death of adolescent Jason Voorhees and the barn murders of a pair of young lovers, scenic Camp Crystal Lake reopens. Now the place is crawling with campers and young, naive, sex-hungry counselors...and a maniacal killer! And just what is the deal with this Jason kid? Adrienne King, Betsy Palmer, Kevin Bacon, Ari Lehman star. 95 min. C/Rtg: NR
Friday The 13th, Part 2 (1981)
It's five years later, and demented, deformed Jason Voorhees is back (and not looking bad for a guy who drowned). This time, Jason preys upon a group of Camp Crystal Lake counselors-in-training. Blood, guts, knives, machetes, spears, icepicks, hammers in the head...the works! Amy Steel, John Furey, Warrington Gillette, Adrienne King star, with a cameo by Jason's killer mom (Betsy Palmer). 86 min. C/Rtg: R
Friday The 13th, Part 3 (1982)
Look out, campers! Donning his trademark hockey mask for the first time, Jason takes terror to a new dimension in this third entry in the shock series. Back at scenic Camp Crystal Lake, Jason (portrayed by Richard Brooker) slashes his way through a group of rich kids just trying to have a little summer fun, as well as a gang of grizzled bikers. Dana Kimmell, Paul Kratka, Tracie Savage, Catherine Parks also star. 95 min. C/Rtg: R
Friday The 13th: The Final Chapter (1984)
More carnage at Camp Crystal Lake, as hacksaw-swinging, spear-throwing, head-crushing Jason returns, and the only person able to stop him is a young boy. Kimberly Beck, Corey Feldman, Peter Barton, Crispin Glover, Ted White star. 91 min. C/Rtg: R
Friday The 13th, Part V: A New Beginning (1985)
This time the horror isn't confined to camp, as a home for troubled teenagers is subjected to one shocking murder after another. Has hockey-masked hacker Jason returned from the grave, or is a new killer following in his bloody footsteps? John Shepard, Melanie Kinnaman, Corey Parker, Dick Wieand star. 92 min. C/Rtg: R
Friday The 13th, Part VI: Jason Lives (1986)
And they said it couldn't be done! A lightning bolt brings everyone's favorite masked murderer back from the grave, and he's ready to pick (and axe) up where he left off, unless the youth who "killed" him the first time and the sheriff's daughter can stop him. Thom Mathews, Jennifer Cooke, Ron Palillo, C.J. Graham star. 87 min. C/Rtg: R
Friday The 13th, Part VII: The New Blood (1988)
That's right, Jason's back and ready to rend, but this time his victims include a spunky teenage girl with deadly telekinetic powers. Has everybody's favorite ghoulish goalie finally met his match? Lar Park Lincoln, Terry Kiser, Heidi Kozak, Kane Hodder star. 88 min. C/Rtg: R
Friday The 13th, Part VIII: Jason Takes Manhattan (1989)
It's the scariest thing to hit the Big Apple since Steinbrenner bought the Yankees! What will happen to the streets of New York when the unstoppable killer lands in search of fresh victims? Find out in the eighth installment in the interminable horror series. Jensen Daggett, Scott Reeves, Peter Mark Richman, Kane Hodder star. 100 min. C/Rtg: R
Jason Goes To Hell: The Final Friday (1993)
This ninth (and, once again, "final") entry in the series finds the immortal Jason both predator and prey, as he takes over different bodies while avoiding the police and a bounty hunter out to finish him for good. John D. LeMay, Kari Keegan and Kane Hodder star in this (literally) hell-blazing shocker. R-rated version; 88 min./Unrated version; 91 min. C/Rtg: NR
Jason X (2002)
No, filmdom's goalie-masked cut-up doesn't join the Black Muslims. This tenth entry in the slasher series is set in the mid-25th century, where a research team on the long-abandoned planet Earth finds the cryogenically frozen bodies of Jason and his intended final victim. Once on board their spaceship, a scheming scientist thaws out Jason, who is enhanced with bio-regenerative abilities and eager to resume his homicidal ways. Lexa Doig, Jonathan Potts, and Kane Hodder as Jason star. 93 min. C/Rtg: R
Freddy vs. Jason (2003)
It's the biggest showdown in Hollywood horror history when "A Nightmare on Elm Street's" blade-slashing baddie Freddy Krueger battles hockey-masked "Friday the 13th" maniac Jason Voorhees. Trapped in Hell, Freddy seeks a way to return to Earth and terrify a new generation of Elm Street kids...and finds it by resurrecting Jason. But when Jason's killing spree makes Freddy jealous, the stage is set for a sinister showdown. Robert Englund, Ken Kirzinger, Kelly Rowland star. 98 min. C/Rtg: R
Friday The 13th (2009)
This re-imagining of the original film that started the Jason Voorhees legend returns to a closed Camp Crystal Lake, where a group of young people discovers Jason and his lovely mother. It isn't long before the wily youths learn why the notorious campsite remained shut down, as the maniacal Jason continues his savage killing spree. Jared Padalecki, Danielle Panabaker, and Amanda Righetti star. 97 min. C/Rtg: R
Widescreen; Soundtrack: English DTS HD mono Master Audio; audio commentary; featurettes; documentaries; radio spots; TV spots; deleted scenes; theatrical trailers; more.
| | |
| --- | --- |
| Item #: | 2311163X |
| UPC #: | 826663209419 |
| | |
| --- | --- |
| Attributes: | Deluxe Edition, Boxed Set |
| Product Type: | Blu-ray |
| Rating: | R |
| | |
| --- | --- |
| Street Date: | 10/13/2020 |
| Original Language: | ENG |