Show results for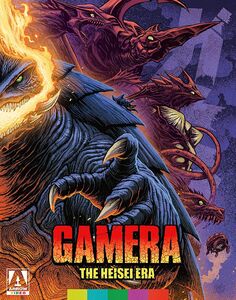 Four-disc set includes:
Gamera: Guardian Of The Universe (1995)
He's mean, green and back on the screen! Gamera, the titanic turtle who breathes fire, flies over Japan once more in this all-new, monster-packed extravaganza that pits him against a trio of Gyaos, winged reptilian beasties out to destroy the planet. Has Gamera met his match? Ayako Fujitani, Hatsunori Hasegawa star. 90 min. C/Rtg: NR
Gamera 2: Attack Of Legion (1996)
Has the towering terrapin met his match when a horde of insect-like alien creatures comes to Earth in a meteor shower and threatens to overrun the country? Second Heisei era entry stars Toshiyuki Nagashima, Miki Mizuno. 100 min. C/Rtg: NR
Gamera 3: Revenge Of Iris (1999)
Gamera has his hands (claws?) full in this one, as he must battle a new flock of the flying Gyaos creatures while the Japanese military seeks a way to get rid of him once and for all. What's more, Iris, a gigantic tentacled monster psychically linked to a young girl who blames Gamera for her family's deaths, is also looking to turn the titanic terrapin into turtle soup. Ai Maeda, Shinobu Nakayama star. 109 min. C/Rtg: NR
Gamera The Brave (2006)
Even though the mighty Gamera saved his village from bat-like Gyaos decades ago, Toru becomes distressed when his son's pet turtle exhibits subtle signs--like breathing fire--of being the spawn of his departed savior. When their coastal town is threatened by a new man-eating monster, however, the family hopes the boy's fully grown pet will take up the heroic mantle of his predecessor. Rollicking kaiju outing stars Kaho, Susumu Terajima. 96 min. C/Rtg: NR
Widescreen; Soundtracks: Japanese DTS HD 5.1 Master Audio, Dolby Digital stereo, English DTS HD 5.1 Master Audio, Dolby Digital stereo; Subtitles: English; audio commentary; documentaries; interviews; featurettes; theatrical trailers; image galleries; bonus footage; deleted scenes; more. In Japanese with English subtitles/Dubbed in English.
| | |
| --- | --- |
| Item #: | 2353994X |
| UPC #: | 760137441182 |
| | |
| --- | --- |
| Street Date: | 1/26/2021 |
| Original Language: | JAP |
| Run Time: | 399 minutes |