Show results for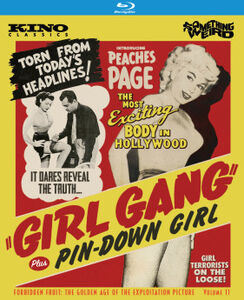 Includes:
Girl Gang (1954)
A lost female juvenile delinquent film, has been unearthed and it's something to behold! The hellcats in the title get off on marijuana and heroin, steal cars, assault boys, and delve into other areas of sordidness. Joanne Arnold, Timothy Farrell, Harry Keaton star in this production from noted schlockmeister George Weiss. 63 min. BW/Rtg: NR
Pin Down Girl (1951)
Rock 'em, sock 'em melodrama rips the lid off the seamy underbelly of the women's pro wrestling biz, as a sleazy manager comes on to his charges and conspires with mobsters to fix (!) matches. Real-life gal grapplers Peaches Page and Clara Mortensen star, along with Ed Wood regular Timothy Farrell. AKA: "Blonde Pickup," "Racket Girls," "Wrestling Racket Girls." 81 min. BW/Rtg: NR
Standard; Soundtrack: English; Subtitles: English (SDH); audio commentary; theatrical trailers.
| | |
| --- | --- |
| Item #: | 2402371X |
| UPC #: | 738329255107 |
| | |
| --- | --- |
| Product Type: | Blu-ray |
| Rating: | NR |
| | |
| --- | --- |
| Street Date: | 7/20/2021 |
| Original Language: | ENG |