Show results for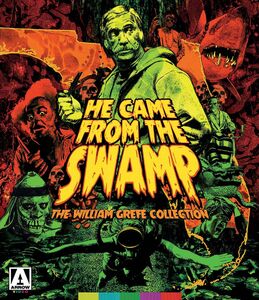 Four-disc set includes:
Sting Of Death (1966)
Karen Richardson (Valerie Hawkins) convinced her college buddies to come spend their break in the Everglades at the facility of her marine biologist dad (Jack Nagle). Unfortunately, the party's going to be crashed--fatally--by a bizarre half-man, half-jellyfish creature. William Grefé's shoestring shocker also features Joe Morrison, Deanna Lund, and the Neil Sedaka classic "Do the Jellyfish." 80 min. C/Rtg: NR
Death Curse Of Tartu (1966)
An archeology professor (Fred Pinero) brought a quartet of students on a dig deep in the Everglades. They'll wish they'd gone with the term paper after they desecrate a Seminole burial mound--and revive a centuries-dead witch doctor (Doug Hobart) who transforms into various animals as he takes his vengeance. Regional shocker from William Grefé co-stars Babbette Sherrill, Bill Marcus. 88 min. C/Rtg: NR
The Hooked Generation (1968)
Ambitious Florida street pushers Daisey (Jeremy Slate), Acid (John Davis Chandler), and Dum-Dum (Willie Pastrano) decided it was time to eliminate the middleman and deal directly with the Cubans. However, the drop goes south, with suppliers and Coast Guard winding up shot--and their decision to kidnap an eyewitness couple buys them more trouble. Sordid actioner from William Grefé co-stars Steve Alaimo, Milton "Butterball" Smith. 92 min. C/Rtg: R
The Psychedelic Priest (1971)
After inadvertently downing a soda laced with LSD, young priest Father John (John Darrell) doffs his collar and hits the road in search of himself. However, the individuals and adventures he encounters will to precious little to restore his faith Largely improvised opus from an uncredited William Grefé, unreleased for 30 years, also stars Carolyn Hall, Joe Crane. 80 min. C/Rtg: R
The Naked Zoo (1970)
A late-in-her-career Rita Hayworth starred in this thriller from low-budget auteur William Grefé as Helen Golden, the adulterous wife of the rich, wheelchair-bound Harry (Ford Rainey). When Harry catches her in the company of stalled writer-turned-male hustler Terry (Steve Oliver), the stage is set for murder and double-crosses. Rare find also stars Fay Spain, Steve Alaimo. 85 min. C/Rtg: NR
Mako: The Jaws of Death (1976)
While working marine salvage in the Philippines, Vietnam vet Sonny Stein (Richard Jaeckel) was gifted a mystic talisman that granted him a rapport with sharks. He'd find the trinket handy went he went home to Florida, and turn the tables on unscrupulous researchers and others out to exploit the predators of the deep. Exciting actioner from William Grefé co-stars Jennifer Bishop, Harold Sakata. 91 min. C/Rtg: PG
Whiskey Mountain (1977)
Two adventurous couples chose to dirt-bike into the Appalachians, on a treasure hunt for a reputed cache of Civil War rifles. Unfortunately, they're going to need more than flintlocks when they catch the notice of the hostile--and brutal--locals. Grueling adventure story from William Grefé stars Christopher George, Roberta Collins, Preston Pierce, Linda Borgeson. 95 min. C/Rtg: PG
Widescreen; Soundtrack: English mono; Subtitles: English; audio commentary; bonus documentary "They Came from the Swamp: The Films of William Grefé" (2016); featurettes; theatrical trailers; more.
| | |
| --- | --- |
| Item #: | 2428370X |
| UPC #: | 760137718482 |
| | |
| --- | --- |
| Attributes: | Standard Edition |
| Product Type: | Blu-ray |
| | |
| --- | --- |
| Street Date: | 10/26/2021 |
| Original Language: | ENG |
| Run Time: | 736 minutes |