Show results for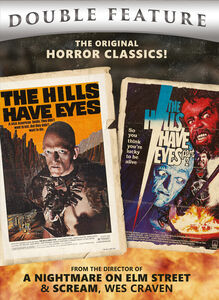 Includes:
The Hills Have Eyes (1977)
Wes Craven directed this classic shocker about a vacationing Cleveland family who find unspeakable terror when they're stranded in the desert. Forcing them to fight violence with violence are a mutant clan of cannibals who use walkie-talkies. With James Whitworth, John Steadman, Dee Wallace, Susan Lanier, and Michael Berryman as "Pluto." 90 min. C/Rtg: R
The Hills Have Eyes, Part 2 (1984)
Just when you thought it was safe to go back in the desert, film fright master Wes Craven brings you the chilling sequel to his horror classic. A group of stranded travelers is attacked by the crazed clan of cannibalistic dune-dwellers and must kill or be killed. Tamara Stafford, Kevin Spirtas, Michael Berryman, John Laughlin star. 90 min. C/Rtg: R
Widescreen; Soundtrack: English.
| | |
| --- | --- |
| Item #: | 2342304X |
| UPC #: | 760137403890 |
| | |
| --- | --- |
| Street Date: | 10/13/2020 |
| Run Time: | 180 minutes |