Show results for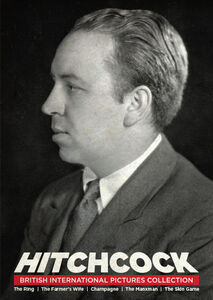 Three-disc set includes:
The Ring (1927)
One of Hitchcock's most highly regarded silent films (and his only original screenplay) focuses on "One Round" Jack Sander, a circus boxer who marries the box-office girl and turns pro to please her. But he soon faces competition in and out of the ring when his new bride leaves him for another fighter, setting the stage for a brutal battle between the pugs. Carl Brisson, Lillian Hall-Davis, Ian Hunter star. Silent with music score. BW/Rtg: NR
Champagne (1928)
This silent comedy from Alfred Hitchcock's early British period is about a spoiled rich girl whose father, a merchant known as "The Champagne King," feigns bankruptcy in order to teach her a lesson in responsibility. Betty Balfour and Gordon Harker star. 89 min. Silent with music score. BW/Rtg: NR
The Farmer's Wife (1928)
Rare Hitchcock silent comedy (he wrote and directed) about a recently widowed farmer who undertakes a wide search for a new wife, unaware of the perfect choice right under his nose: his charming housekeeper. Jameson Thomas and Lillian Hall-Davies star. 98 min. Silent with music score. BW/Rtg: NR
The Manxman (1929)
For his last silent film, director Alfred Hitchcock crafts a compelling drama about childhood friends on the Isle of Man who grow up to both fall in love with the local innkeeper's daughter. Engaged to one man, will she lose her heart to the other? Carl Brisson, Malcolm Keen, and Anny Ondra star. 83 min. Silent with music score. BW/Rtg: NR
The Skin Game (1931)
Early Hitchcock drama, based on John Galsworthy's popular stage play, that was decidedly atypical of the Master's subsequent suspensers. The aristocratic patriarch of one of two rival families resorts to blackmail to settle a dispute over land rights. Stars Edmund Gwenn, Phyllis Konstam, and John Longden. 82 min. BW/Rtg: NR
Standard; Soundtrack: English; audio commentary; interview.
| | |
| --- | --- |
| Item #: | 2226446X |
| UPC #: | 738329240745 |
| | |
| --- | --- |
| Attributes: | 3 Pack |
| Product Type: | DVD |
| Rating: | NR |
| Subtitles: | ENG |
| | |
| --- | --- |
| Street Date: | 12/10/2019 |
| Original Language: | ENG |
| Run Time: | 502 minutes |