Show results for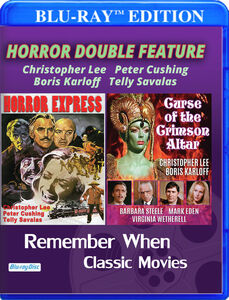 Includes:
Curse Of The Crimson Altar (1968)
A London antique dealer (Mark Eden) sojourns to the remote countryside hamlet where his brother was last seen alive, looking for answers. Making an ally of a local occult expert (Boris Karloff), he discovers that the town's seemingly benign innkeeper (Christopher Lee) has some unholy secrets of his own. Creepy take on H.P. Lovecraft's "Dream in the Witch House" co-stars Barbara Steele, Michael Gough. 87 min. C/Rtg: R
Horror Express (1972)
The discovery of a frozen humanoid in a Manchurian cave has British anthropologist Professor Alexander Saxton (Christopher Lee) hoping he's located the missing link. But when the creature thaws out on the Trans-Siberian Express, Saxton and his fellow passengers must fight for their lives against a dangerous monster that can inhabit anyone's body and transform people into zombies. Peter Cushing, Telly Savalas, Silvia Tortosa star in this non-stop ride to terror. 90 min. C/Rtg: R
Widescreen; Soundtrack: English.
| | |
| --- | --- |
| Item #: | 2486854X |
| UPC #: | 793945971169 |
| | |
| --- | --- |
| Attributes: | Manufactured on Demand, Dolby, Mono Sound |
| Product Type: | Blu-ray |
| Rating: | NR |
| | |
| --- | --- |
| Street Date: | 5/17/2022 |
| Original Language: | ENG |
| Run Time: | 168 minutes |