Show results for
In the Shadow of Hollywood: Highlights From Poverty Row
(1934)
Format:

Blu-ray
Genre:
Mystery / Suspense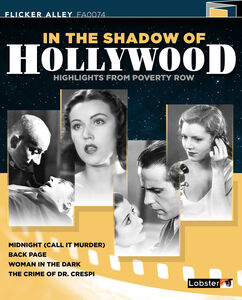 In the Shadow of Hollywood: Highlights From Poverty Row
(1934)
Format:

Blu-ray
Genre:
Mystery / Suspense
Theme:
Crime
Two-disc set includes:
Midnight (1934)
One of Humphrey Bogart's first featured roles was as a gangster in this "B" drama. A hard-hearted jury foreman (O.P. Heggie) sees to it that a woman convicted of murdering her cheating spouse is sentenced to death, only to face a crisis of conscience when his daughter (Sidney Fox) commits a similar act. With Henry Hull, Helen Flint. AKA: "Call It Murder." 73 min. BW/Rtg: NR
Back Page (1934)
In this lighthearted comedy, an idealistic young reporter (Peggy Shannon) quits her job after a very controversial story is stopped by her editor. She then takes a job as an editor herself, working for a paper in California, but soon discovers a corrupt plot to defraud the citizenry in an oil scheme-an operation that reaches higher than she could have imagined. Can she get the facts out to the public...or will her crusading voice be silenced again? Russell Hopton, Sterling Holloway co-star. 63 min. BW/Rtg: NR
Woman In The Dark (1934)
Based on a Dashiell Hammett story, this noirish melodrama stars Ralph Bellamy as an ex-con who is desperate to put his past mistakes behind him. After moving to a remote cabin, he finds his plans complicated when the beautiful Louise (Fay Wray) arrives on his doorstep during a storm with hopes of finding shelter and a safe place to hide from her abusive gangster boyfriend. With Melvyn Douglas, Roscoe Ates. AKA: "Woman in the Shadows." 69 min. BW/Rtg: NR
The Crime of Dr. Crespi (1935)
Erich von Stroheim stars as a mad scientist who finds a unique way to stop his romantic rival: inject him with a serum, leaving him in suspended animation, then bury him alive. This loose treatment of Edgar Allan Poe's "The Premature Burial" co-stars Dwight Frye and Paul Guilfoyle. 63 min. BW/Rtg: NR
Standard; Soundtrack: English; audio commentary.
| | |
| --- | --- |
| Item #: | 2432973X |
| UPC #: | 617311687495 |
| | |
| --- | --- |
| Product Type: | Blu-ray |
| Rating: | NR |
| | |
| --- | --- |
| Region: | A |
| Street Date: | 11/5/2021 |
| Original Language: | ENG |
| Run Time: | 270 minutes |