Show results for
One Day University: Living and Dying in America: The Politics of Healthcare
(2021)
Format:

DVD
Genre:
Learning & Educational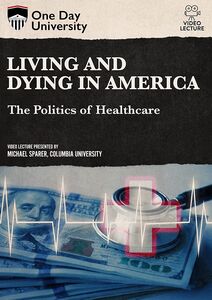 One Day University: Living and Dying in America: The Politics of Healthcare
(2021)
Format:

DVD
Genre:
Learning & Educational
One Day University presents a series of video lectures recorded in real-time from some of the top minds in the United States. Given by award-winning professors and experts in their field, these recorded lectures dive deep into the worlds of religion, government, literature, and social justice. The nation's health care system is in the midst of an extraordinary transformation. Hospitals and insurance companies are merging (and the lines between the two are blurring). There are fewer and fewer solo practice physicians. Large retail chains (from CVS to Walmart) are entering the health care business. The government's role as a payer and regulator is growing, prompted by legislation such as the Affordable Care Act. There are fewer and fewer uninsured, but those who are insured are paying more and more of their health care bill (through higher premiums and deductibles). In this lecture, Professor Michael Sparer reviews these trends, as well as several others that are sure to have a profound impact on where we get our medical care, what the quality of that care will be, and how we pay for it. The lecture also considers the politics of health care, both in the 2016 Presidential campaign and beyond. What are the key health care issues facing a new President, what are the key differences between the two political parties on these issues, and how will the resolution of these issues affect every one of us?
| | |
| --- | --- |
| Item #: | 2406296X |
| UPC #: | 810071440526 |
| | |
| --- | --- |
| Street Date: | 8/10/2021 |
| Original Language: | ENG |
| Run Time: | 54 minutes |