Show results for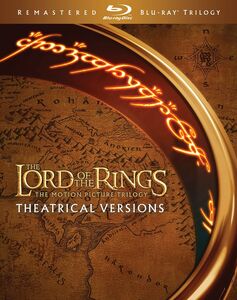 Three-disc set includes:
The Lord Of The Rings: The Fellowship Of The Ring (2001)
In the first installment of director Peter Jackson's ambitious and successful film adaptation of J.R.R. Tolkien's fantasy trilogy, Elijah Wood stars as plucky hobbit Frodo Baggins, whose bequest of an arcane ring from his uncle Bilbo (Ian Holm) spurs a perilous journey to prevent an overpowering evil from enveloping Middle Earth. Ideally-cast support is provided by Ian McKellen, Viggo Mortensen, Liv Tyler, Cate Blanchett, Sean Astin, Hugo Weaving, Christopher Lee. 178 min. C/Rtg: PG-13
The Lord Of The Rings: The Two Towers (2002)
With the Fellowship of the Ring splintered, the war for Middle Earth continues in the second Tolkien tale from Peter Jackson. As warriors Aragorn (Viggo Mortensen), Legolas (Orlando Bloom), and Gimli (John Rhys-Davies) help defend the fortress of Helm's Deep from the monstrous forces of dark lord Sauron, ring-bearing hobbit Frodo (Elijah Wood) and pal Sam (Sean Astin) are joined in their quest to Mordor by the ring's twisted, tormented former owner, Gollum (Andy Serkis in a "voice and virtual performance"). With Christopher Lee, Miranda Otto, and Ian McKellen. 179 min. C/Rtg: PG-13
The Lord Of The Rings: The Return Of The King (2003)
Eleven Academy Awards, including Best Picture, went to director Peter Jackson's triumphant finale to fantasy cinema's most acclaimed series. As Frodo, Sam and the treacherous Gollum attempt to destroy the One Ring of Power in the fires of Mt. Doom, Aragorn the ranger faces his destiny as the rightful ruler of Gondor, leading the armies of mankind into ultimate battle against Sauron's minions. Sean Astin, Orlando Bloom, Ian McKellen, Viggo Mortensen, Miranda Otto, John Rhys-Davies, Andy Serkis, and Elijah Wood star. 3 1/3 hrs. C/Rtg: PG-13
Widescreen (Enhanced); Soundtracks: English Dolby Atmos TrueHD, DTS HD 5.1 Master Audio, French Dolby Digital 5.1, Spanish Dolby Digital 5.1; Subtitles: English (SDH), French, Spanish.
| | |
| --- | --- |
| Item #: | 2432586X |
| UPC #: | 883929781942 |
| | |
| --- | --- |
| Attributes: | Remastered |
| Product Type: | Blu-ray |
| Rating: | PG13 |
| | |
| --- | --- |
| Street Date: | 11/16/2021 |
| Original Language: | ENG |