Show results for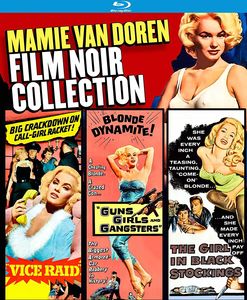 Two-disc set includes:
The Girl in Black Stockings (1957)
The murder of a beautiful actress turns everyone at an upscale Utah resort into a suspect in this taut whodunit. With more dead bodies beginning to turn up, the list of potential killers includes the hotel's quadriplegic owner, his doting sister, a lawyer from Los Angeles, and a runaway bride. Lex Barker, Anne Bancroft, Mamie Van Doren, Ron Randell, Marie Windsor star. AKA: "Black Stockings," "Wanton Murder." 73 min. BW/Rtg: NR
Vice Raid (1959)
When a dutiful vice cop (Richard Coogan) proves a little too diligent on the job, a besieged mob boss (Brad Dexter) imports a stunning high-end call girl (Van Doren) for the perfect frame-up. the loss of his reputation and badge, however, doesn't mean he's about to quit. Co-stars Barry Atwater. 71 min. BW/Rtg: NR
Guns Girls and Gangsters (1959)
Fresh-out-of-stir Chuck (Gerald Mohr) "borrowed" the Vegas armored car heist plans of ex-celly Mike (Lee Van Cleef)...and wanted the help of Mike's chanteuse wife (Mamie Van Doren) and her current squeeze (Grant Richards) to launder the cash. Too bad for them all that Mike's broken out...and he doesn't like anyone horning in on his schemes or his woman. Co-stars Paul Fix. 70 min. BW/Rtg: NR
Widescreen; Soundtrack: English; featurette; theatrical trailers.
| | |
| --- | --- |
| Item #: | 2095858X |
| UPC #: | 738329233389 |
| | |
| --- | --- |
| Attributes: | 2 Pack |
| Product Type: | Blu-ray |
| Rating: | NR |
| | |
| --- | --- |
| Street Date: | 11/20/2018 |
| Original Language: | ENG |
| Run Time: | 216 minutes |