Show results for
Dean Martin & Jerry Lewis: 8-Movie Collection
Format:

DVD
Genre:
Comedy Video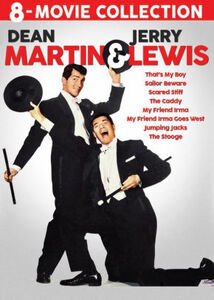 Four-disc set includes:
My Friend Irma (1949)
In their screen debut, Dean Martin and Jerry Lewis star as Steve and Seymour, orange juice stand jockeys who befriend scatterbrained blonde Irma Peterson (Marie Wilson), whose con man boyfriend (John Lund) plans to make velvet-voiced Steve a star. Steve soon falls for Irma's roommate Jane (Diana Lynn), but she has her heart set on marrying a rich man. Don DeFore, Hans Conried also star in this zesty comedy, based on the popular radio series. 103 min. BW/Rtg: NR
My Friend Irma Goes West (1950)
Laugh-packed sequel follows Steve (Dean Martin), Seymour (Jerry Lewis), Irma (Marie Wilson), Jane (Diana Lynn), and Al (John Lund) to Hollywood after Steve lands a movie contract. But when the "producer" who signed him is revealed to be an escaped mental patient, it's but the first stop on a wacky path that somehow leads to Irma being kidnapped and held for ransom in Las Vegas. Corinne Calvet Lloyd Corrigan co-star. 91 min. BW/Rtg: NR
That's My Boy (1951)
Despite both of his parents being accomplished athletes, "Junior" Jackson (Jerry Lewis) is a total clutz. Bill Baker (Dean Martin) is a cash-strapped college football star whose tuition is paid by Junior's dad (Eddie Mayehoff) for toughening up his meek and mild son so he can excel on their school's team. Trouble arises when the girl (Marion Marshall) Junior likes seems to have eyes for Bill. With Ruth Hussey, Polly Bergen. 104 min. BW/Rtg: NR
Sailor Beware (1952)
The Navy may never be the same now that Al Crowthers (Dean Martin) and Melvin Jones (Jerry Lewis) have joined up. An allergy to cosmetics makes it nearly impossible for Melvin to kiss girls. He romances make-up-free Hilda (Marion Marshall), but a false reputation as a Casanova leads to a bet between Al and a gruff CPO (Robert Strauss) that Melvin can score a smooch from beautiful nightclub singer Corinne Calvet (as herself). 108 min. BW/Rtg: NR
Jumping Jacks (1952)
It's "Geronimo!" for Corporal Chick Allen (Dean Martin), an entertainer-turned-U.S. Army paratrooper who recruits civilian ex-partner Hap Smith (Jerry Lewis) to help him put on a show on his base. Hap is forced to impersonate a soldier for what's meant to be a one-off gig, but finds himself stuck in uniform when he and Chick are a hit and get sent on tour. With Mona Freeman, Don DeFore, Robert Strauss. 96 min. BW/Rtg: NR
The Stooge (1952)
Comic farce with some surprising dramatic and autobiographical moments starring Dean Martin as Bill Miller, an accordion-playing vaudevillian who decides to go solo without help from his partner (Richard Erdman). After falling flat on his face, Bill's manager suggests he recruit a "stooge" in the form of a zany, put-upon second banana. Enter Ted Rogers (Jerry Lewis). But how long can Ted remain the butt of Bill's jokes without proper credit. Polly Bergen, Eddie Mayehoff also star. 99 min. BW/Rtg: NR
The Caddy (1953)
Dean Martin and Jerry Lewis break par for laughs in this zany tale of hi-jinx on the golf links. As caddy and golf instructor Harvey Miller, Jr. (Lewis) helps turn duffer pal Joe Anthony (Martin) into a success on the green, the pair attracts the attention of a talent agent who suggests they try their hands at comedy. Donna Reed co-stars, there's cameos by Ben Hogan, Sam Snead, and other golfers, and Dino sings "That's Amoré." 95 min. BW/Rtg: NR
Scared Stiff (1953)
Bob Hope's fright-comedy "The Ghost Breakers" was retooled to fit the talents of Martin and Lewis, and the result was one of Dean and Jerry's funniest films. When he wrongly thinks he's killed a mobster, a nightclub singer (Martin) and his friend (Lewis) hide out in a haunted castle that becomes the setting for some spooky goings-on, not the least of which is Jerry's impersonation of co-star Carmen Miranda! With Lizabeth Scott, George Dolenz. 108 min. BW/Rtg: NR
Standard; Soundtrack: English Dolby Digital mono; Subtitles: English.
| | |
| --- | --- |
| Item #: | 2259076X |
| UPC #: | 032429333926 |
| | |
| --- | --- |
| Attributes: | Boxed Set, Widescreen, Dolby, Amaray Case |
| Product Type: | DVD |
| Rating: | NR |
| Subtitles: | ENG, SPA |
| | |
| --- | --- |
| Street Date: | 2/18/2020 |
| Dubbed: | FRE |
| Original Language: | ENG |
| Run Time: | 792 minutes |