Show results for
Movies Unlimited DVD & Blu-ray Catalog: 2023 Edition
GET THE CATALOG RECOMMENDED BY CRITICS EVERYWHERE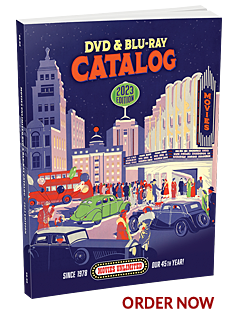 New 2023 Edition!
400+ Pages!
Thousands of Titles!
If you like movies, you'll love our catalog. It's your one source for EVERYTHING on DVD. Make your choices from classics of the '30s, '40s and '50s, rare "B" westerns and movie serials, musicals from Hollywood's Golden Age, an amazing array of foreign films, video rarities, TV shows, drama, comedies, cult favorites and much, much more!
plus shipping & handling
The critics everywhere rave...
One of the biggest and most varied catalogs I've seen."

- ROGER EBERT, Movie Home Companion

"The definitive source for practically every currently available video in print."

- LEONARD MALTIN, Leonard Maltin's Movie Guide

"By far the most incredibly complete source for video."

- GENE SHALIT, Today Show

"The behemoth of the mail-order houses."

- MONEY MAGAZINE

"...the largest, most reliable single repository of information for what's on video..."

- ANDY WICKSTROM, Philadelphia Inquirer
And it's yours for only (plus shipping and handling). Plus you'll receive 12 money-saving discount coupons for use throughout the year with your catalog order. Order your Movies Unlimited DVD Catalog now, and get ready to be movied like you've never been movied before.