Show results for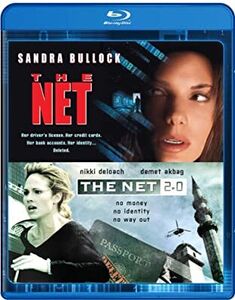 Includes:
The Net (1995)
Sleek suspenser with Sandra Bullock as Angela Bennett, a lonely computer wizard whose Mexican vacation turns dangerous when she meets a British hacker (Jeremy Northam) in search of a disc that offers access to secret government files. Back in the U.S., Bennett discovers that her identity has been "deleted" as she is pursued by both police and the disc's mysterious designers. With Dennis Miller, Diane Baker, Ken Howard, Ray McKinnon; directed by Irwin Winkler. 114 min. C/Rtg: PG-13
The Net 2.0 (2006)
After arriving in Istanbul to start a new job, a computer systems analyst has her identity stolen, her bank account emptied and her credit cards invalidated. Quickly, she discovers that the authorities think she is responsible for the theft of $14,000,000 and the murder of a police officer. Can she avoid arrest, clear her name and get her life back? Directed by Charles Winkler (son of "The Net" director Irwin Winkler), this in-name-only sequel stars Nikki Deloach, Demet Akbag, Sebnem Dönmez. 93 min. C/Rtg: R
Widescreen; Soundtrack: English; Subtitles: English.
| | |
| --- | --- |
| Item #: | 2357582X |
| UPC #: | 683904634771 |