Show results for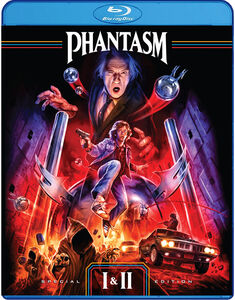 Two-disc set includes:
Phantasm (1979)
Bizarre, dreamlike shocker about two young Oregon brothers (Bill Thornbury, A. Michael Baldwin) who investigate a series of strange deaths in their town...and their connection to a cemetery that contains a gateway to another dimension. Their digging leads them to a sinister mortician called the "Tall Man," and his grab-bag of deadly weapons and army of shrouded minions. With Reggie Bannister, Angus Scrimm; directed, written, photographed, co-produced, edited, and probably catered by Don Coscarelli. 88 min. C/Rtg: R
Phantasm II (1988)
The Tall Man returns--and he's brought his deadly flying spheres with him--in this scare-packed sequel. Believing the mysterious and beautiful girl who inhabits his dreams to be the spooky cemetery keeper's next target, Mike, fresh off a stint in a psycho ward, recruits old pal Reggie to help save her. James Le Gros, Reggie Bannister, Paula Irvine, and Angus Scrimm star. 97 min. C/Rtg: R
Widescreen; Soundtrack: English Dolby Atmos; audio commentary; home movies; deleted scenes; more.
| | |
| --- | --- |
| Item #: | 2426205X |
| UPC #: | 810348032966 |
| | |
| --- | --- |
| Attributes: | Collectible, Poster, Special Edition, 2 Pack |
| Product Type: | Blu-ray |
| Rating: | R |
| Closed Caption: | Yes |
| | |
| --- | --- |
| Street Date: | 10/5/2021 |
| Original Language: | ENG |
| Run Time: | 185 minutes |