Show results for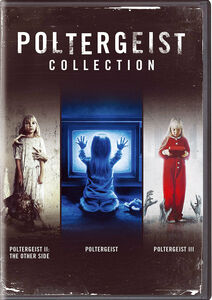 Three-disc set includes:
Poltergeist (1982)
"They're here." At first, the ghosts haunting the Freelings' new home seem playful, rearranging furniture and interfering with their TV reception. Then, little Carol Anne (Heather O'Rourke) is abducted into their netherworld, and her parents (Craig T. Nelson, JoBeth Williams) fear they may have lost their child to specters with more malevolent intentions. Produced by Steven Spielberg and directed by Tobe Hooper; Zelda Rubenstein, Beatrice Straight co-star. 114 min. C/Rtg: PG
Poltergeist II: The Other Side (1986)
They're back! The Freelings again find themselves under attack by vengeful spirits, in this creepy sequel. When the family relocates in the months after the supernatural abduction of young daughter Carol Anne (Heather O'Rourke), the notorious Beast finds them and wages another battle for Carol Anne's soul, forcing the family to cross over into the spirit world and face the monster head on. Craig T. Nelson, JoBeth Williams, and Zelda Rubinstein co-star. 90 min. C/Rtg: PG-13
Poltergeist III (1988)
In the third film of the spooky series, young Carol Anne Freeling (Heather O'Rourke) is sent to live with her aunt (Nancy Allen) and uncle (Tom Skerritt) in their upscale Chicago skyscraper. But an otherworldly evil has followed her to her new home, and now Carol Anne and her family must once again try and defeat the sinister spirit that wants to claim the little girl as its own. With Lara Flynn Boyle and Zelda Rubenstein. 97 min. C/Rtg: PG-13
Widescreen; Soundtracks: English Dolby Digital stereo, French Dolby Digital stereo, Spanish Dolby Digital stereo; Subtitles: English (SDH), French, Spanish.
| | |
| --- | --- |
| Item #: | 2486406X |
| UPC #: | 883929793457 |
| | |
| --- | --- |
| Attributes: | 3 Pack |
| Product Type: | DVD |
| Rating: | PG13 |
| | |
| --- | --- |
| Street Date: | 6/7/2022 |
| Original Language: | ENG |