Show results for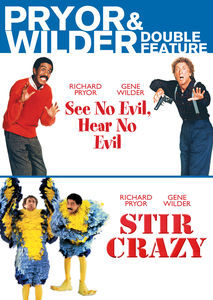 Includes:
Stir Crazy (1980)
Comedy smash reteams Richard Pryor and Gene Wilder as a wannabe actor and a wannabe playwright from New York who can't even get arrested...until they sport woodpecker costumes for a promotional event on their way to Los Angeles, are mistaken for a pair of bank robbers, and get sent to prison. Co-stars JoBeth Williams, Georg Stanford Brown; directed by Sidney Poitier. 111 min. C/Rtg: R
See No Evil, Hear No Evil (1989)
Gene Wilder and Richard Pryor are together again in this hit slapstick farce. When a man is murdered in the shop where they work, blind Wally Karue (Pryor) hears the gunshot while deaf Dave Lyons (Wilder) gets a glimpse of the shooter leaving the scene. Wanted by the police as suspects, and by the crooks as witnesses, Wally and Dave must prove their innocence and bring the real killer to justice. Joan Severance, Kevin Spacey also star. 102 min. C/Rtg: R
Widescreen; Soundtrack: English.
| | |
| --- | --- |
| Item #: | 1400495X |
| UPC #: | 014381002102 |
| SKU #: | D68957 |