Show results for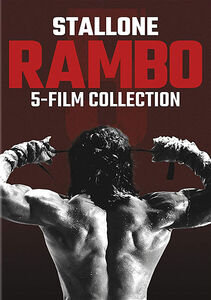 Five-disc set includes:
First Blood (1982)
John Rambo (Sylvester Stallone) is an ex-Green Beret haunted by his memories of Vietnam. Harassed and jailed by the locals in a Northwest town, he makes a daring escape and travels to the mountains, where he stages a one-man guerrilla war against the antagonistic sheriff (Brian Dennehy) and his men. But when Rambo's former colonel (Richard Crenna) arrives, can tragedy be averted? With Bill McKinney, Jack Starrett. 96 min. C/Rtg: R
Rambo: First Blood Part II (1985)
Sylvester Stallone (who co-wrote with James Cameron) returns as Vietnam War vet John Rambo in this explosive action sequel. Released from prison, Rambo agrees to undertake a mission to confirm the existence of American POWs left behind in Southeast Asia. Will Rambo obey his orders not to engage the enemy or attempt a rescue, or will he risk everything to bring the prisoners back alive? Richard Crenna, Charles Napier, Steven Berkoff, Julia Nickson, Martin Kove also star. 95 min. C/Rtg: R
Rambo III (1988)
The exciting third entry in the hit action film series finds former soldier John Rambo (Sylvester Stallone) turning down an offer to join a mercenary mission led by his former commanding officer Colonel Trautman (Richard Crenna). After learning Trautman has been captured by Soviet forces in Afghanistan, Rambo suits up for a one-man rescue operation, determined to save his friend. You'll believe a man can shoot down a helicopter with a bow and arrow! With Kurtwood Smith, Marc de Jonge. 102 min. C/Rtg: R
Rambo (2008)
Sylvester Stallone co-wrote, directed and (of course) stars in the fourth film in the beloved franchise. Living in Thailand, a more world-weary than ever John Rambo spends his time chauffeuring locals in his old PT boat. Approached by a group of missionaries to take them into the heart of war-torn Burma for a humanitarian cause, he once again finds himself on a bloody rescue mission when they are kidnapped by sadistic military men. With Julie Benz, Matthew Marsden, Graham McTavish. 91 min. C/Rtg: R
Rambo: Last Blood (2019)
In the fifth (and, purportedly, final) chapter in the saga of John Rambo (Sylvester Stallone, who also co-wrote), the grizzled former Green Beret and Vietnam veteran is living a quiet life on an Arizona horse ranch. But that won't last long, as Rambo must square off against the members of a vicious Mexican drug cartel who've abducted the granddaughter (Yvette Monreal) of an old friend (Adriana Barraza). Paz Vega, Sergio Peris-Mencheta also star. 89 min. C/Rtg: R
Widescreen; Soundtrack: English.
| | |
| --- | --- |
| Item #: | 2283814X |
| UPC #: | 031398318996 |
| | |
| --- | --- |
| Attributes: | Boxed Set, Widescreen, Digital Theater System, Subtitled |
| Product Type: | DVD |
| Rating: | R |
| Subtitles: | ENG, SPA |
| Closed Caption: | No |
| | |
| --- | --- |
| Street Date: | 5/12/2020 |
| Original Language: | ENG |
| Run Time: | 473 minutes |