Show results for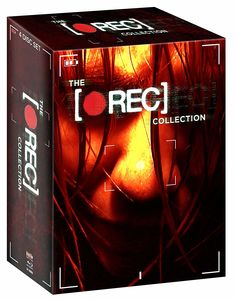 Four-disc set includes:
[Rec] (2007)
The Spanish shocker that served as the inspiration for the 2008 American horror flick "Quarantine" follows a late-night TV reporter and her cameraman as they accompany a group of Barcelona firefighters on a call to an apartment building. When a deranged old woman violently attacks them, the building goes on lockdown, trapping everyone inside and forcing them to fight for their lives against an unknown threat. Manuela Velasco, Ferran Terraza star. 78 min. In Spanish with English subtitles/Dubbed in English. C/Rtg: R
[Rec] 2 (2009)
Picking up immediately after the events of the first film, this intense sequel follows a medical officer and the members of a SWAT team as they attempt to get a blood sample from the initial patient stricken with a strange virus that has overtaken the residents of a Barcelona apartment building. As they search for her, other people inside the complex begin to grasp the horrific situation at hand. Jonathan Mellor, Oscar Zafra, Ariel Casas star. 84 min. In Spanish with English subtitles. C/Rtg: R
[REC] 3: Génesis (2012)
Tying in loosely with the first two installments of the shocker series, this third chapter focuses its shaky-cam lens on the imminent wedding of Clara (Leticia Dolera) and Koldo (Diego Martin), whose nuptials are disrupted by the emergence of a terrifying virus that turns a guest into a flesh-chomping zombie unwilling to wait for a bite of the wedding cake. Before long, the bride-to-be is wielding a chainsaw! Javier Botet, Mireia Ros co-star. 80 min. In Spanish with English subtitles. C/Rtg: R
[Rec] 4: Apocalypse (2014)
In the fourth infectious fright foray, TV reporter Angela Vidal (Manuela Velasco) is airlifted from the building where the horrible contagion first erupted, and taken to an offshore tanker where doctors are working on a cure. Unfortunately, their efforts aren't outpacing the virus's spread--as all on board are going to learn to their terror. Paco Manzanedo, Héctor Colomé, Ismael Fritschi also star. 95 min. In Spanish with English subtitles. C/Rtg: R
Widescreen; Soundtrack: Spanish Dolby Digital 5.1; Subtitles: English. In Spanish with English subtitles.
| | |
| --- | --- |
| Item #: | 2091934X |
| UPC #: | 826663189902 |
| | |
| --- | --- |
| Attributes: | Boxed Set, Widescreen |
| Product Type: | Blu-ray |
| Rating: | R |
| | |
| --- | --- |
| Street Date: | 9/25/2018 |
| Dubbed: | ENG |
| Original Language: | SPA |
| Run Time: | 318 minutes |