Show results for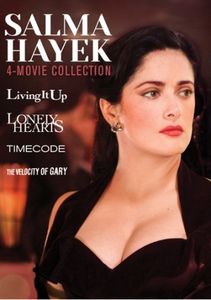 Includes:
The Velocity Of Gary (1999)
This hip comedy-drama showcases Vincent D'Onofrio as Valentino, a porn star romantically involved with a spicy Times Square waitress (Salma Hayek), who also finds himself attracted to hustler and phone sex worker Gary (Thomas Jane). When Valentino discovers he has contracted AIDS, a complex situation gets even more complicated, in this quirky slice-of-life saga. With Ethan Hawke, Olivia d'Abo; based on James Still's play "The Velocity of Gary (Not His Real Name)." 101 min. C/Rtg: R
Timecode (2000)
Shot in real time on digital video and unfolding on four different sections of the screen, this experimental effort by Mike Figgis presents a quartet of interconnected stories set in the Los Angeles moviemaking community. The first scene opens as Emma (Saffron Burrows) tells her problems to a therapist (Glenne Headly), while an actress (Salma Hayek) has an affair with her lover's (Jeanne Tripplehorn) studio exec husband. Meanwhile, a group of producers discusses upcoming projects, and the casting for a film continues. 97 min. C/Rtg: R
Living It Up (La Gran Vida) (2000)
Tired of life, a bus conductor (Carmelo Gómez) borrows $1 million from mobsters and intends to blow it all before committing suicide. But when he falls for a sexy waitress (Salma Hayek) and decides to go on living, he's got to find a way to pay the money back. Lively romantic comedy from Spain co-stars Tito Valverde, Alicia Agut. 114 min. In Spanish with English subtitles. C/Rtg: R
Lonely Hearts (2006)
Based on actual events, this offbeat crime drama stars Salma Hayek and Jared Leto as "Lonely Hearts Killers" Martha Beck and Raymond Fernandez (previously portrayed in 1970's "The Honeymoon Killers"), who used personal ads to find victims for their murderous acts in the late 1940s. John Travolta and James Gandolfini co-star as the New York detectives assigned to bring the psychotic couple to justice. With Laura Dern, Scott Caan, Alice Krige. 108 min. C/Rtg: R
Widescreen; Soundtrack: English.
| | |
| --- | --- |
| Item #: | 1875852X |
| UPC #: | 683904545886 |